Exploring Teaching and Learning Strategies in Health Sciences Education
The 6th Annual Summer Institute for Teaching and Learning is a day-long workshop devoted to exploring effective teaching and learning strategies in health sciences education. This event is designed for junior faculty or senior faculty who recently taken on a new teaching role.

This year's Summer Institute will be held on Thursday, July 25, 2013 from 8:00am to 5:00pm in 522/523 Butler Library on the Columbia Morningside Campus. If you have questions about the event, please contact us at cumc-sitl@columbia.edu.
Location
The 2013 Summer Institute is located in 522/523 Butler Library on Columbia's Morningside Campus. A Columbia University ID is required to enter Butler Library.
Directions to 522/523 Butler Library
View
Butler Library, Columbia University
in a larger map
Enter Butler Library through the main doors and proceed through the security gate. Once past the gate, take the hallway to your right until you reach the elevators. Take the elevator to the 5th floor. 522/523 Butler is to the right at the end of the hall.
Engage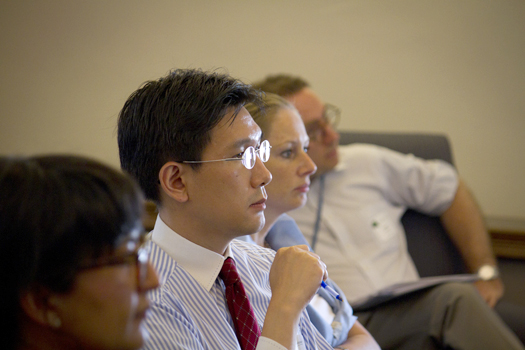 After the Summer Institute, fellows will have the opportunity to attend a series of workshops to learn more.
Workshop #1: Objective Structured Clinical Exams (OSCEs) in Medical Education
Date TBA
Workshop #2: Tricks of the Trade: Designing Effective Test Questions
Date TBA
Agenda
8:00am – 8:30am
Breakfast and Check-in
8:30am – 8:45am
Introductions and Ice Breaker
Michelle Hall (CCNMTL)
8:45am – 9:30am
Keynote: Improving Teaching through Instructional Design
Deborah Cabaniss (P&S)
9:35am - 11:15am
Rules for Engagement
Overview – 10 mins, Michelle Hall (CCNMTL)
Engaging Groups Big & Small – 50 mins, Rachel Gordon (P&S)
Clinical Teaching Techniques – 30 mins, Beth Barron (P&S)
11:20am - 12:00pm
Engaging Learners Online
Tucker Harding (CCNMTL)
12:00pm - 12:45pm
Lunch
12:45pm – 1:00pm
How do we know if students are learning?
Aubrie Swan-Sein (P&S)

1:00pm – 2:45pm
Course Design Activity
Introduction – Michelle Hall (CCNMTL)
Activity - Participants in groups
Reports and feedback from expert panel – Group representatives & expert panel

2:45pm – 3:00pm
Break
3:00pm – 3:45pm
Keynote: Principles of Reflection
Mary Jo Fink (P&S)
3:45pm – 4:00pm
How'd We Do? Submit Your Evaluation /Certificates
4:00pm – 5:00pm
Wine & Cheese Reception & Networking
---
The Summer Institute for Teaching and Learning is facilitated by members of CUMC's teaching community and is sponsored by the Office of Academic Affairs at the College of Physicians and Surgeons, the Columbia Center for New Media Teaching and Learning, the Anna Maxwell Teaching Academy, the Diamond Teaching Academy, the Mailman School of Public Health Teaching Academy, and the Virginia Apgar Academy of Medical Educators.