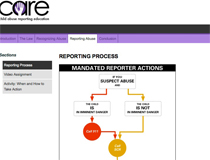 September 28, 2010. Recognizing the symptoms of child abuse and knowing how to report suspected abuse is a required skill for students in the School of Social Work and the College of Dental Medicine. In December 2008, Assistant Dean Ann McCann Oakley of the School of Social Work and Shan Lal, associate professor at the College of Dental Medicine, partnered with CCNMTL to produce the Child Abuse Reporting Education (CARE) Project, an online training site designed to enhance student understanding and practice of child abuse reporting standards in the state of New York.
Launched this fall, the CARE Project contains online informational text and images, interactive learning activities, and pre- and post-course assessments that guide students through material on child abuse identification and reporting procedures. CARE comprises five training modules on subjects ranging from child abuse and the law to recognizing and reporting abuse. Upon completion of the training modules, students discuss the CARE material in class with instructors.
The New York State Central Register of Child Abuse and Maltreatment mandates that social workers, dentists, and all other human service professionals report suspected abuse or maltreatment of minors. CARE fulfills the requirements of the Child Abuse Reporting courses at the School of Social Work and the College of Dental Medicine and equips students with online resources to which they can refer throughout their careers. Learn more about CARE.