Last week, four CCNMTL staff members presented collaboration strategies to a group of Jewish Studies professors from universities across the U.S.
The presentations were part of a working session of Columbia University's New Media in Jewish Studies Collaborative, an initiative to cultivate a network of educators to bring tools of new media and digital storytelling into their teaching, student assignments, and scholarship. NMJSC is led by Professor Jeremy Dauber, director of Columbia's Institute for Israel and Jewish Studies, and Sam Ball, an acclaimed documentarian and head of Citizen Film.
Kenny Hirschmann, an educational technologist at CCNMTL's satellite office at the Jewish Theological Seminary, presented "Tips for Teaching New Media Production: Wikis as Collaborative Spaces."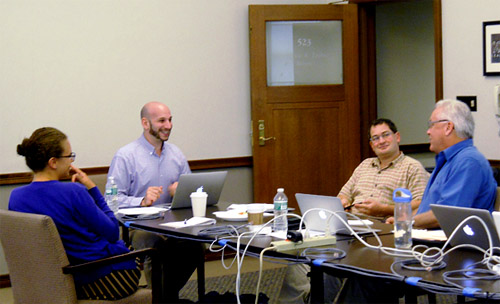 Adrienne Garber and Tucker Harding, also educational technologists, led a breakout group on new media collaboration at the intersection of Jewish Studies, arts, and culture. Dan Beeby, associate director of services, co-led a breakout group on pedagogical collaboration with new media centers, libraries, and archives. Hirschmann led a third group on best practices in team-based learning.