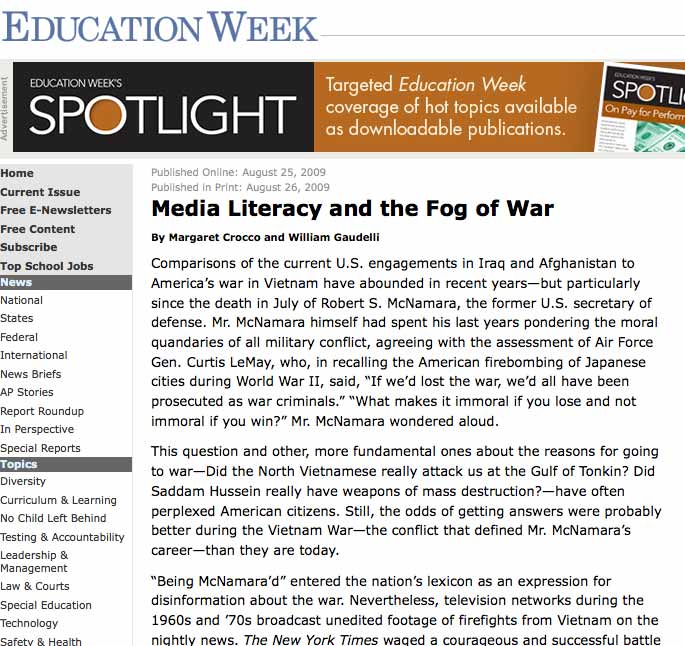 August 26, 2009. Teachers College professors and CCNMTL faculty partners Margaret Crocco and William Guadelli penned an editorial in Education Week focusing on the importance of teaching students media literacy in the face of a changed news cycle, a point underscored during both professors' work on the recently launched Project Vietnam developed by CCNMTL, Teachers College, WGBH, and the University of Massachusetts-Boston.
In Media Literacy and the Fog of War, Crocco and Guadelli compare access to information about the Vietnam War to that of the Iraq and Afghanistan wars. The professors find that unedited footage of the Vietnam War aired on television and in documentaries like Vietnam: A Television History differs greatly with the current "sanitized and streamlined" news coverage of the middle east wars. Crocco and Gaudelli spent a year reviewing footage produced for WGBH's Vietnam: A Television History in preparation for Project Vietnam and are using footage from the documentary in Vietnam Now!, a course they created this summer.
"[Our work] has left us convinced that changes in the news media, together with an end to the draft and compassion fatigue in the face of the 24-hour news cycle, have combined to put recent wars in a more ambiguous cultural and psychological space for Americans than the Vietnam War inhabited in its day."
To contend with this trend, Crocco and Guadelli call for educators to teach students media literacy—to question the source of their information and examine who is controlling and shaping the information and images they see. The professors use their course to help K-12 teachers implement effective and media-savvy social studies lessons, using custom analysis tools developed by CCNMTL for students to view, annotate, and embed clips of archived footage and interviews into multimedia projects that explore the teaching of the Vietnam War.
Read more about Crocco and Guadelli's appeal for media literacy at Education Week or learn more about Project Vietnam, a CCNMTL Digital Bridges strategic initiative project.
Related news:
Jul-27-2011: Project Vietnam Site Launched
Jun-03-2011: Special Event: Recapping Project Vietnam
Aug-05-2010: The Chronicle of Higher Education Highlights Vietnam Collection
May-03-2010: The Vietnam Collection Featured in New York Times
Apr-15-2010: WGBH Launches the Vietnam Collection
Mar-03-2010: Project Vietnam Presented at WebWise Conference
Jun-29-2009: Project Vietnam Launches at Teachers College
May-12-2009: CCNMTL Project Analyzing Vietnam War Documentary Footage Highlighted in Teachers College Article
Jun-25-2008: CCNMTL Collaborates with WGBH and UMASS Boston to Activate Vietnam Digital Archive