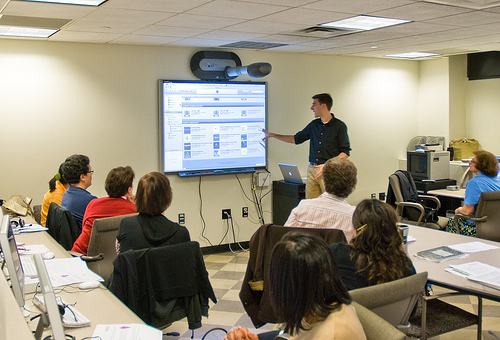 August 24, 2009. Get ready for the fall semester by attending our Faculty Development Workshop and Fall Premiere series, where you'll learn all you need to know about course management, collaboration, and educational media tools.
These hands-on workshops will take you through the basic features of CourseWorks, Columbia's course management system, and Columbia Wikispaces, a wiki solution provided to every registered course. Explore uses of podcasting in teaching with the workshops Podcasting Essentials and iTunes U , or learn how online video can be used in the classroom in the Using Online Video for Teaching workshop. Workshops are hosted by CCNMTL and are held in the Faculty Support Lab located in 204 Butler Library and in the Hammer Building Rm 202A Computer Lab, Health Sciences Library.
And, don't forget to register for the Fall Premiere, CCNMTL's annual event for faculty to discover the latest teaching technologies offered at Columbia University, including the new course blogging platform, EdBlogs, and Columbia's channel on YouTube. Watch the Fall Premiere preview video and register today!
Click on the event links below or visit CCNMTL Events to read event descriptions and register with your UNI.
CourseWorks: Getting Started
Tuesday, August 25, 2009, 10:00 AM
Wednesday, August 26, 2009, 10:00 AM
Tuesday, September 1, 2009, 10:00 AM
Friday, September 11, 2009, 10:00 AM
CourseWorks Immersion
Tuesday, August 25, 2009, 12:00 PM
Wednesday, August 26, 2009, 1:00 PM
Thursday, September 10, 2009, 1:00 PM
Wikispaces: Getting Started
Tuesday, August 25, 2009, 11:15 AM
Thursday, August 27, 2009, 10:00 AM
Friday, August 28, 2009, 10:00 AM
Wednesday, September 2, 2009, 11:15 AM
Friday, September 11, 2009, 11:15 AM
Wikispaces Immersion
Thursday, August 27, 2009, 12:00 PM (at CUMC)
Thursday, September 3, 2009, 10:00 AM
iTunes U: Getting Started
Friday, August 28, 2009, 11:15 AM
Wednesday, September 2, 2009, 10:00 AM
Podcasting Essentials: Creation and Distribution
Thursday, August 27, 2009, 3:00 PM
Wednesday, September 2, 2009, 2:00 PM
Thursday, September 3, 2009, 1:00 PM
Using Online Video for Teaching
Thursday, August 27, 2009, 11:30 AM
Monday, August 31, 2009, 12:00 PM
CCNMTL Fall Premiere 2009
Tuesday, September 8, 2009, 11:00 AM