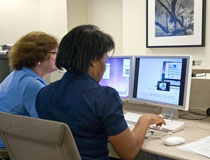 September 16, 2009. CU Faculty and Instructors: Register now for introductory workshops on CourseWorks and Columbia Wikispaces and discover how you can continue course communication outside of the classroom.
During these one-hour workshops, an educational technologist will teach the basics of online course management and collaboration tools. You'll learn how to complete tasks like posting your syllabi and assignments on a course site and adding content to a course wiki. Workshops are hosted by CCNMTL and are held in the Faculty Support Lab located in 204 Butler Library.
In light of Columbia University's pandemic preparedness planning, CCNMTL encourages you to consider online course management and collaboration tools that enable ongoing communication and remote access to course materials. To learn more about teaching tools available to faculty and instructors at Columbia, visit CCNMTL Tools.
Read workshop descriptions and register with your UNI.

Friday, September 18, 2009
CourseWorks: Getting Started at 2:00 PM
Monday, September 21, 2009
Wikispaces: Getting Started at 12:30 PM
CourseWorks: Getting Started at 2:00 PM
Wednesday, September 23, 2009
CourseWorks: Getting Started at 10:00 AM
Wikispaces: Getting Started at 2:00 PM
Monday, September 28, 2009
CourseWorks: Getting Started at 10:00 AM
Tuesday, September 29, 2009
CourseWorks: Getting Started at 12:30 PM
Thursday, October 1, 2009
Wikispaces: Getting Started at 12:30 PM