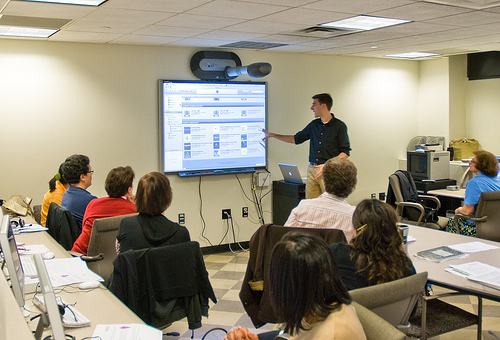 October 29, 2009. How can you use course management tools, wikis, and podcasting to enhance your teaching and meet your course objectives? Find out by attending CCNMTL Faculty Development Workshops, offered on November 10-12 in the Faculty Support Lab in 204 Butler Library.
Discover how to use CourseWorks, Columbia's course management system, to distribute course materials and facilitate course communication. Or, explore collaborative uses of wikis in our Wikispaces: Getting Started and Wikispaces: Advanced workshops. Also, if you're new to podcasting and want to learn about the nuts and bolts of creating a podcast, then attend Podcasting Essentials: Creation and Distribution.
These hands-on workshops are hosted by CCNMTL and are held in the Faculty Support Lab located in 204 Butler Library. Visit CCNMTL Events to read workshop descriptions and register with your UNI.
Wikispaces: Getting Started
Tuesday, November 10, 2009 11:00 AM - 12:15 PM
Wikispaces: Advanced
Tuesday, November 10, 2009 12:30 PM - 1:45 PM
CourseWorks: Getting Started
Wednesday, November 11, 2009 11:00 AM - 12:15 PM
Podcasting Essentials: Creation and Distribution
Thursday, November 12, 2009 11:00 AM - 12:15 PM