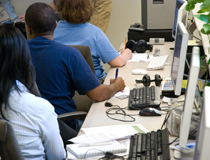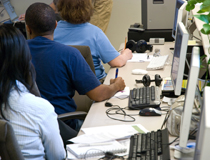 May 5, 2010. Interested in learning how to integrate online materials into your classroom this summer? Attend our Faculty Development Workshops and get started with teaching tools like CourseWorks, Wikispaces, EdBlogs, podcasting, and online video.
These hands-on workshops will be held on May 11-13 and June 21-24 and are led by CCNMTL educational technologists who teach both basic and advanced features of communication and collaboration tools available to all Columbia teaching faculty.
Workshops are held in the Faculty Support Lab located in 204 Butler Library on the Morningside campus. Click on the workshop links or visit http://ccnmtl.columbia.edu/events/workshops to read workshop descriptions and register with your UNI.
CourseWorks: Getting Started
Tuesday, May 11, 2010, 10:00 AM - 11:15 AM
Tuesday, June 22, 2010, 10:00 AM - 11:15 AM
CourseWorks: Advanced
Tuesday, May 11, 2010, 11:30 AM - 12:45 PM
Tuesday, June 22, 2010, 11:30 AM - 12:45 PM
Sakai: Getting Started
Thursday, May 13, 2010, 2:00 PM - 3:15 PM
Tuesday, June 22, 2010, 2:00 PM - 3:15 PM
CourseWorks Open House
Wednesday, June 23, 2010, 2:00 PM - 3:15 PM
Wikispaces: Getting Started
Wednesday, May 12, 2010, 10:00 AM - 11:15 AM
Wednesday, June 23, 2010, 10:00 AM - 11:15 AM
Wikispaces: Advanced
Wednesday, May 12, 2010, 11:30 AM - 12:45 PM
Wednesday, June 23, 2010, 11:30 AM - 12:45 PM
Using Online Video for Teaching
Tuesday, May 11, 2010, 2:00 PM - 3:15 PM
Thursday, June 24, 2010, 11:00 AM - 12:15 PM
Podcasting Essentials: Creation and Distribution
Thursday, May 13, 2010, 11:00 AM - 12:30 PM
Thursday, June 24, 2010, 2:00 PM - 3:30 PM