On March 18, 2014, playwright Dominique Morisseau's Detroit '67 was awarded the second annual Edward M. Kennedy Prize for Drama Inspired by American History. According to the jury that selected the play, "[we have] unanimously chosen to award the Edward M. Kennedy Prize for Drama Inspired by American History to Detroit '67 by Dominique Morisseau. The first in a 3-play cycle about her hometown Detroit, the play explores an explosive and decisive moment in a great American city. The jury was completely drawn into the world of Detroit '67, whose compelling characters struggle with racial tension and economic instability."
The award event featured Grammy-winning singer Tony Bennett, who performed "The Best Is Yet to Come" and "Fly Me to the Moon," and cast members from the Public Theater/Classical Theater of Harlem production of Detroit '67, including De'Adre Aziza, Francois Battiste, and Michelle Wilson, as well as Marc Damon Johnson.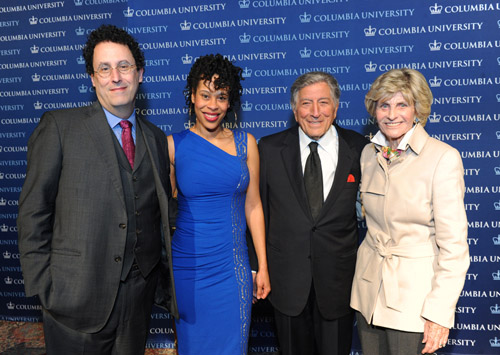 Tony Kushner, Dominique Morisseau, Tony Bennett, and Ambassador Jean Kennedy Smith at the prize ceremony (Photo credit: Diane Bondareff)



The Edward M. Kennedy Prize is administered annually through Columbia University Libraries/Information Services and consists of a $100,000 award as well as an educational website built by the Columbia Center for New Media Teaching and Learning to promote understanding of the play's themes and exploration of history.
In this brief interview, Dominique Morisseau discusses receiving the Edward M. Kennedy Prize and her hope that Detroit '67 will enrich theatergoers' understanding of the events that precipitated the race riots of Detroit in 1967 and which continue to shape the American experience.
Related news:
Oct-08-2014: Columbia University Launches Website Dedicated to 2014 Edward M. Kennedy Prize Winner
Oct-30-2013: Columbia Launches Websites Dedicated to Edward M. Kennedy Prize-Winning Plays