NEW YORK, New York, October 8, 2014 – This month the Columbia Center for New Media Teaching and Learning (CCNMTL) launched an informational website for the latest winner of the Edward M. Kennedy Prize for Drama Inspired by American History: Dominique Morisseau's Detroit '67.
The award, known as the EMK Prize, was created by Ambassador Jean Kennedy Smith to honor the life and legacy of her brother Ted Kennedy, the late senator from Massachusetts. The prize is administered annually through Columbia University Libraries/Information Services and consists of a $100,000 award as well as an educational website to promote understanding of the works.
Detroit '67, by Detroit native and recent Playwright of New York fellow Dominique Morisseau, explores an explosive and decisive moment in a great American city. The play's compelling characters struggle with racial tension and economic instability. A Public Lab production of Detroit '67 premiered at The Public Theatre in 2013.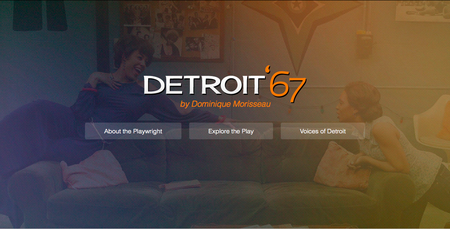 This website allows visitors to explore Morisseau's Detroit through photos, music, recommended readings, and excerpts from the play. It contains resources for learning about Detroit during the Civil Rights movement. It also features a video interview with Morisseau in which she discusses her relationship with history and theater. In the video, Morisseau comments on the themes of her play in relationship to the current social landscape, and how she hopes that the play will inspire a movement in students. Additionally, Morisseau mentions how theatre can inspire students' interest in learning history.
The website will be augmented with additional educational material that is being collected. This new material will be released the third week of November.
Visit the website here: kennedyprize.columbia.edu/winners/2014/morisseau
Related news:
Mar-20-2014: Video: Dominique Morisseau Discusses Winning the Edward M. Kennedy Prize
Oct-30-2013: Columbia Launches Websites Dedicated to Edward M. Kennedy Prize-Winning Plays