About Online Learning at CCNMTL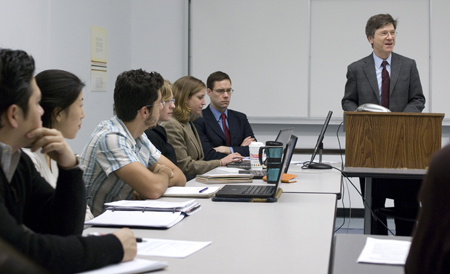 In partnership with Columbia University entities, as well as with local, national, and international foundations and government agencies, the Center for New Media Teaching and Learning works with faculty to enhance online teaching and learning so that educators and students may inspire each other and work to achieve common goals. Some examples include:
working with the Earth Institute,

SIPA,

and the Global Honors College to identify new routes to environmental sustainability;
partnering with departments at the Columbia University Medical Center to advance new research in practical and experimental medical sciences;
collaborating with the School of Social Work to share research and best practices in educational and healthcare policy and reform at home and abroad.
Advances in educational techniques and social media technologies have made it possible for educators and learners to join a globally networked community in which participants share and often co-create their learning experience. This systematic sharing of information between and among universities is, in fact, the essence of what Brandeis University's John Unsworth calls "University 2.0."
To enhance collaboration with our partners, CCNMTL actively researches innovations in global and distance learning. Design Research for example, integrates the exploration and development of digital technologies with pedagogical theory and practice.
With our partners, we take care to understand the curriculum, identify problems and challenges, create hypotheses about the technologies that best serve the course, and then design the educational environment. Upon completion of the course or project, we evaluate and document the experience and develop new iterations in order to improve it.
Consistent with our central mission of sharing innovative uses of instructional technology with our faculty partners, the Center supports a range of tools and platforms, including the CourseWorks learning management system, blogs, wikis, and multimedia annotation. The Center also produces educational content on iTunes U and YouTube EDU.
Our educational technologists are ready to work with you on a variety of levels: projects, courses, and programs. We welcome faculty from all departments at CCNMTL, and together we can arrive at creative solutions that fulfill your pedagogical goals.

First, we assess curricular development and course design needs. Then we evaluate the curriculum/course design to determine which parts of the course can be effectively delivered online. We also assist in determining the most efficient way the course should be accessed and administered locally and abroad.

Once the curricular context is established, we explore tools that best meet your needs. This includes evaluating existing (and custom-built) learning management systems and secondary resources that facilitate communication (tools like wikis, blogs, and media annotation tools).

A smooth-running course is an important part of any online learning experience. CCNMTL staff will facilitate training for local and remote participants and, in some cases, provide curricular and technical support throughout the course. Additionally, we undertake assessments to determine the efficacy of course design, level of student engagement, and learning outcomes, which determine future design iterations.

Upon completion of the course, we will work with you to identify the best way to archive or recycle the course for preservation and future use.
Contact Information
To learn more about working with CCNMTL's Online Learning Initiative or to propose a new project, please contact:

Dan Beeby
Associate Director of Services
Columbia Center for New Media Teaching and Learning
505 Butler Library
535 West 114th Street
New York, NY 10027
212.854.9640
dbeeby@columbia.edu
Download a Project Application
Note: The Online Learning Initiative was renamed from Global Learning Initiative.