Welcome to the Course "Sharing Circles: Introducing Skills for Social Decision Making."
Coming together in sharing circles is the first step in developing emotionally safe classroom environments. This is the kind of nurturing climate needed to introduce social decision-making and problem solving skills. Through participating in sharing circles, students develop a sense of responsiveness to other people's feelings and opinions, and they are able to deepen their capacity to share and discuss more personal and complex issues.
This Course will engage you in an experience to prepare you to work with Sharing Circles as a vehicle for fostering social decision making skills within your classroom and school activities.
Guiding your learning experience are Maurice Elias, Linda Bruene Butler, and Robin Stern, experts in the field of emotional intelligence and education.
The Course is organized into three sections: Shaping Sharing Circles, Thinking Sharing Circles, and Sharing Circles in Action. Each section addresses different aspects of the systematic skill building process for working with Sharing Circles. Embedded in the Course are a variety of learning experiences that will allow you to explore, observe, perform, and plan Sharing Circle activities. We encourage you to share your ideas and opinions with other participants by posting your comments in the Seminar's Forum.
Please, begin by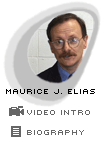 watching Maurice Elias' Seminar overview video.