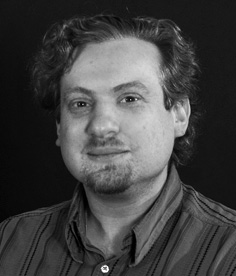 Jonah Bossewitch
Lead Technical Architect
jonah@ccnmtl.columbia.edu
212 854-1815
505 Butler Library
Jonah works as a Technical Architect at CCNMTL. He works closely with the Educational Technologists, Webmasters, Media Specialists, and Programmers. He is also pursuing a PhD in Communications at the Columbia School of Journalism.
Jonah has an extensive background in software architecture, design, and development. Prior to joining the center, he was the lead developer at Abstract Edge, an interactive marketing firm which serviced both non-profit and corporate clients. He was also a senior developer at MaMaMedia, a children's educational Web site. He is a free/open source contributor whose technical interests include Linux, Python, Content Management, and Social Software.
He completed a MA in Communication and Education at Teachers College ('07) and graduated from Princeton University ('97) with a BA in Philosophy, and a certificate in Computer Science. He enjoys cycling, Central Park, playing the bass, and scuba diving.