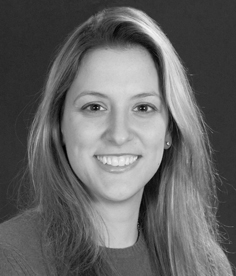 Adrienne Garber
Educational Technologist I
agarber@columbia.edu
212 851-9861
505 Butler Library
Adrienne is an educational technologist at CCNMTL focusing on digital media applications for teaching and learning. Before joining CCNMTL, Adrienne worked as a researcher at the Lit2Quit Lab where she developed mobile games to mimic the physiological and emotional effects of smoking as part of cessation therapy.
In addition, Adrienne has worked on innovative technology projects for the EdLab at Teachers College, Carnegie Mellon's Language Technologies Institute, and Carnegie Mellon's Field Robotics Center. She was a Fellow at Columbia Technology Ventures and a licensed attorney whose practice areas included corporate finance for emerging companies, technology transactions and intellectual property.
Adrienne is pursuing a doctorate degree in the Instructional Technology and Media program in the Communication, Computing and Technology in Education department at Teachers College, Columbia University. Her academic areas of interest include multimedia learning, gesture-based computing, and human computer interaction, as applied in corporate training and professional education.
She earned her B.S. from Lehigh University, an M.S. from Carnegie Mellon University, a J.D./M.B.A from Duquesne University, and most recently her Ed.M. from Teachers College, Columbia University.