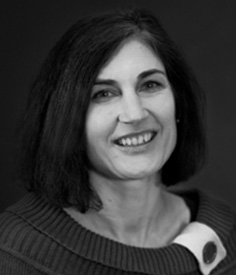 Stephanie Ogden
Lead Digital Media Specialist
sogden@columbia.edu
212 854-1814
505 Butler Library
As lead digital media specialist, Stephanie manages a team of three full-time and several part-time digital video specialists. She oversees all CCNMTL video projects from developing productions for digital health interventions to producing interviews with world-renown artists and intellectuals to implementing global video conferencing solutions that facilitate discussions among international experts and students across the world. Stephanie also supervises all post-production video work, including editing, titling, and processing for web distribution. She enjoys working with CCNMTL's highly skilled technical team, experienced educational technologists, and topic academics to take a project from conception to final production.
Prior to joining CCNMTL, Stephanie worked at Columbia University's Office of Public Affairs, where she initiated and directed their video bureau. She also has worked at international organizations including the Worldview International Foundation (Nepal) and UNICEF (Nepal), and has worked as a freelancer in the San Francisco Bay area.
In her free time, Stephanie volunteer teaches documentary workshops at the New York International Children's Film Festival. She received her MA in broadcast television and video from San Francisco State University.