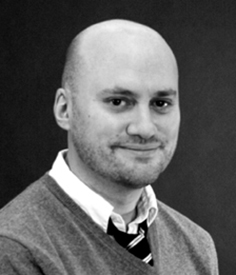 Marc Raymond
Senior Web Designer
mraymond@columbia.edu
212 854-1866
505 Butler Library
Marc provides creative planning and direction for CCNMTL's educational technology projects and initiatives. His work can be seen in the web, print, identity, and video design for numerous Columbia platforms, campaigns, events, and services. He has been an integral creative contributor to Columbia projects since 2001.
Prior to working at CCNMTL, Marc was senior web developer of the Web Design Group for Earthlink, Inc., designing media for Turner Networks, Oracle, Coca-Cola, and the High Museum of Art.
Marc received his M.S. in strategic communications from Columbia University in February 2007. In 1995, he received his B.A. in communications from Rhode Island College, with a major in mass media and a minor in film studies. He is also a graduate of the Manhattan Comedy School and has performed at both Comix and Caroline's on Broadway.
When not on the Columbia University campus, he can usually be found in his kitchen on the Upper West Side of Manhattan cooking with his wife, Donna. He is an unapologetic New Englander and is originally from West Warwick, Rhode Island.