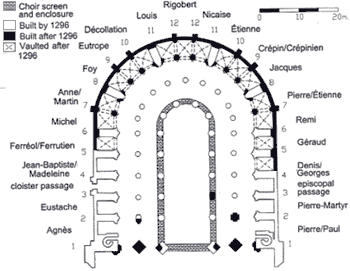 Notre-Dame was probably begun in sometime in the late 1150s and was consecrated by the pope in 1163. As illustrated in the diagram above, the construction of Notre-Dame began with the choir and involved several phases, the last one phase ending in 1330.
The last phase included the creation of more chapel space, the construction of a choir screen, the rebuilding the Episcopal palace, and structural repairs. Bishop Simon Matifas de Bucy oversaw the beginning of this work. Work began in 1296 with the foundation for the axial chapels of St. Marcel (later called St. Louis), St. Rigobert, and St. Nicaise, where de Bucy was buried in 1304. The choir walls were then pushed out, filling in the space between the buttresses. This new interior space was used for chapels for the clerical families and the upper classes. The chapel expansion finished in 1314. Master Pierre de Chelles directed the structural repair work and the construction of the choir screen.* (Jean de Chelles had worked on the North Transept.)
Viollet-le-Duc restored Notre-Dame in the 19th c. At that time he recreated Notre-Dame's initial four story elevation in the bays by the crossing. The elevation had changed to three stories when the upper windows had been enlarged. Viollet-le-Duc wanted to allow for a crossing tower and thought the four story elevation would provide more structural support.
Notre-Dame uses flying-buttresses for both the nave and choir. The ones we see today were rebuilt in the nineteenth century by Viollet-le-Duc. The buttresses date to the twelfth century, and the physical evidence supports Viollet-le-Duc's theory that the flyers dated from the twelfth century. When the buttresses of the choir and nave are considered in conjunction with the responds, they are of comparable mass. These buttresses were capable of bearing flyers and presumably intended to bear flyers. The choir buttresses were later extended approximately 1.5 m when the chapels were added.
Some of the flyers are decorated with chevrons; chevrons were an architectural motif common in the 12th, not the 13th or 14th centuries.
The upper story of the church does not show evidence of low-level flyers or murs boutants.* If the long span flyers are indeed from the twelfth century then Notre-Dame evidences not gradual but sudden technological advances.*
Interestingly, the choir roof, which was built before the nave roof, is at a steeper angle than the nave roof and is the better structural solution.