Saint Denis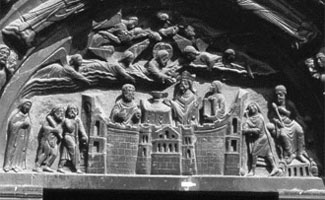 Saint Denis was a third century Bishop of Paris and martyr. He is the patron saint of the French monarchy. Rusticus and Eleutherius were his companions. According to the legend the prefect, Sissinius, condemned Saint Denis. After Denis' head was chopped off at Montmartre, Denis bent down, picked up his head, carried it two miles, to where he wanted to be buried and then fell down dead. The earliest account of this Saint-Denis is found in The Life of Saint Genevieve, written in 502. Abbot Hilduin also wrote about the story of Saint Denis:
"The hour of judgment had come; the thugs (bourreaux) threw themselves on them [the evangelists] beating them cruelly with sticks and dragging them through the roads to the Hill of Mercury [Montmartre], where, after the most horrible abuse, the missionaries [athletes] had their heads chopped off with an ax blow. ... In an astonishing miracle the body of Saint Denis was seen to rise up and to gather up his head in his own hands as if he was still alive, raising it up triumphantly and carrying it for a distance of about two Gallic miles to the place where it presently reposes where the abbey of Saint-Denis is located. At the sight of this miracle the heathen, terrified, took flight. But the Christians, in awe, blessed this manifestation of divine power. There resulted the conversion of a host of the unfaithful."
Anne-Marie Romero, in her book, Saint-Denis: Emerging Powers, discusses the theories of Lombard-Jourdain. Lombard-Jourdain proposes that Saint Denis was martyred and buried in Lendit plain North of Paris, which was then part of "Montmartre." St. Genevieve built the first basilica at the tomb where an oratory had previously been built. This later became Saint-Denis de la Chapelle. In 627 the bodies were transferred to the site of the present Saint Denis. The pit found by Formige was used for the bodies before they were placed in the reliquary. The remains of the early church at Saint Denis are instead the remains of a church dedicated to Saint Peter and established there to offset the pagan influence of the nearby pagan shrine and Druid meeting place.1
For Romero, Lombard-Jordain's proposal leaves unanswered why so many Christians chose to be buried at Saint-Denis before the translation of his relics. Additionally, the pagan temple near Saint Denis seems not be the one referred to in Constantine's panegyric which is currently thought to refer to the Grand in the Vosges.2
1. Romero, Anne-Marie Romero, Saint-Denis: Emerging Powers.( Paris: Presses du CNRS (Caisse Nationale des Monuments Historiques et des Sites),1992) pp. 17-18.
2. Romero, pp. 20-21.