About Us
The Columbia Center for New Media Teaching and Learning (CCNMTL) was founded in 1999 as a University-wide initiative with a mission to enhance teaching and learning through the purposeful use of new media. In partnership with faculty, we provide the necessary support for a range of efforts from building basic course Web sites to developing advanced projects. CCNMTL is committed to remaining a leader in the field, engaging with its faculty partners in the reinvention of education for the digital age.
Contact Us
Columbia Center for New Media Teaching and Learning
535 West 114th Street, Mail Code 1130, New York, NY 10027
Tel: 212 854-9058
Fax: 212 854-1825
Email: ccnmtl@columbia.edu
Non-Columbia Registration
Guests from outside of Columbia University should contact Briana Ferrigno (bferrigno@columbia.edu) to request an invitation and to receive complete registration details.
Location
All events for the NME2010 event will take place in Low Library on Columbia University's Morningside Campus. Directions to Morningside Campus.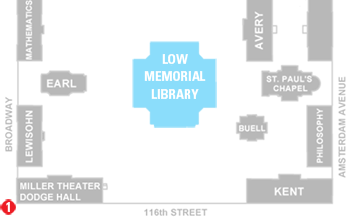 The conference will take place in Low Memorial Library, located on 116th Street between Broadway and Amsterdam Avenue.
Past New Media and Education Conferences
To date, the Center has hosted three New Media in Education (NME) conferences. To be taken to the conference Web pages and to view video from these events, please click the appropriate link below:
NME2008
NME2006
NME2003
NME2001