Sheila S. Coronel is a professor at the Graduate School of Journalism at Columbia University and head of the Toni Stabile Center for Investigative Journalism there. Prior to that, she was executive director of the Philippine Center for Investigative Journalism (PCIJ), an independent, nonprofit media organization that has published over 200 investigative reports and about two dozen books since its founding in 1989. In 2003, Coronel received the Ramon Magsaysay Award, said to be Asia's Nobel Prize, for journalism, literature, and the creative communication arts.

Kenneth Crews joined Columbia University in January 2008 as founding director of the Copyright Advisory Office (CAO). The principal service of the CAO is to provide guidance with respect to the relationship between copyright law and the research, teaching, and service mission of the University community. Beginning in 1994, Dr. Crews was director of the first such copyright office of its type, based on the IUPUI campus of Indiana University (IU). At Indiana he also held a named professorship in the Indiana University School of Law-Indianapolis, with a joint appointment in the IU School of Library and Information Science. Dr. Crews holds an M.L.S. and Ph.D. from UCLA's School of Library and Information Science.

This spring, Derrick Higginbotham will compete his dissertation on fifteenth- and sixteenth-century English theater in the Department of English and Comparative Literature at Columbia. Prior to this, he studied in Canada, earning an M.A. from Simon Fraser University and a B.A. from Dalhousie University, both in the study of English Literature. For the last four years, he taught Literature Humanities, and starting in his second year of teaching, he utilized Courseworks and later Wikispaces to facilitate his pedagogical goals. Currently, he teaches First-Year English at Barnard College.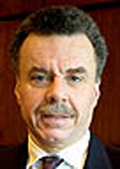 Conrad Johnson is a clinical professor at the Columbia Law School. A co-director of the Lawyering in the Digital Age Clinic he co-founded in 2001, he works to integrate emerging technologies into law education and explore their influence in law practice. Johnson is also a co-founder and former director of the Law School's Fair Housing Clinic, as well as a former director of the Clinical Education Program. He has served as the attorney-in-charge of the Legal Aid Society of New York City's Harlem branch and taught at the City University of New York. A Columbia College alumnus, he has been a Columbia faculty member since 1989.
Nicholas Lemann is the dean and Henry R. Luce Professor at the Journalism School at Columbia University. He was born, raised and educated in New Orleans. He began his journalism career as a 17-year-old writer for an alternative weekly newspaper there, the Vieux Carre Courier. He graduated magna cum laude from Harvard College in 1976, where he concentrated in American History and Literature and was president of the Harvard Crimson. Before becoming dean of the Journalism School in September 2003, Lemann worked at The Washington Monthly, the Texas Monthly, The Washington Post, the The Atlantic Monthly, The New Yorker, and the Washington Correspondent.

Kirsten Lundberg is director of the Knight Case Studies Initiative at Columbia University Graduate School of Journalism. Ms. Lundberg has conducted numerous Case Method training seminars—on how to teach and how to write case studies—in the US and abroad. Before Harvard, Ms. Lundberg worked for United Press International in Moscow, Stockholm, Brussels, and London. She has published articles in Time, Newsweek, the New York Times, the Boston Globe, and the London Daily Express, among others. Formerly, she was acting director of the Case Program at the Kennedy School of Government, Harvard University. Ms. Lundberg holds a B.A. in history from Williams College, and a M.P.A. from the Kennedy School of Government at Harvard.

Leila May-Landy is a senior lecturer in the American Language Program in the School of Continuing Education. In her 18 years with the program, she has served in many administrative positions, most notably as testing coordinator and academic coordinator. For the past 10 years, she has integrated the use of technology in her teaching of international matriculating and non-matriculating students, researchers and faculty. Over the last 9 years, she has taught both a pre-academic course for international students in the School of International and Public Affairs as well as a semester-long course for the same population. Ms. May-Landy holds an Ed.M. in TESOL from Teachers College and is currently working on an Ed.D. in Communication and Technology from Teachers College.

John McArthur is the chief executive officer and executive director of Millennium Promise and a research associate at the Earth Institute at Columbia University. He also teaches at Columbia's School of International and Public Affairs. Previously, he served as policy director at the Earth Institute at Columbia University and co-director of the Millennium Villages project. Mr. McArthur also served as deputy director and manager of the UN Millennium Project. In this capacity he coordinated a global network of nearly 300 experts who served on ten thematic Task Forces and he was lead editor of the Project's final report to the Secretary-General, Investing in Development: A Practical Plan to Achieve the Millennium Development Goals. Prior to that Mr. McArthur was a research fellow at the Center for International Development at Harvard University, where he coauthored the World Economic Forum's Global Competitiveness Report with Michael Porter and Jeffrey Sachs. He has an M.Phil. in Economics from Oxford University, which he attended as a Rhodes Scholar; a M.P.P. from Harvard University's John F. Kennedy School of Government; and a B.A. (Honours) from the University of British Columbia.
Gordon McCord is a fourth-year student in the Ph.D. program in Sustainable Development at Columbia University. He has varied interests, including economic growth and poverty reduction, the role of geography in economic dynamics, and the interaction of epidemiology and poverty (particularly in the case of malaria). Before beginning the program, he worked as special assistant to Jeffrey Sachs at the Earth Institute and at the UN Millennium Project. During those years, he had the opportunity to travel all over the world supporting Professor Sachs both in research and in working with country governments and international organizations towards achieving the Millennium Development Goals. Mr. McCord grew up in Latin America, and received his B.A. in Economics from Harvard University.

Katie Murphy is the deputy director and the Global Curriculum and Field Training Coordinator for the Master's in Development Practice Secretariat. From March 2007- September 2008, Murphy served as the project manager for the International Commission on Education for Sustainable Development Practice and has led efforts to build a founding network of universities engaged in sustainable development education. In partnership with CCNMTL, she facilitated the launch of the graduate-level "Global Classroom: Integrated Approaches to Sustainable Development Practice" connecting universities around the world in an interactive, on-line course. Murphy has an M.A. in International Education Policy from Harvard and a B.A. from Johns Hopkins University.

Valerie Paley served as the head teaching assistant in Professor Ken Jackson's fall 2007 course History of the City of New York, in which she facilitated the use of a wiki for more than 300 students. Ms. Paley continues to work with CCNMTL to develop future implementations of the New York Neighborhoods project. She is a Ph.D. candidate in US History who is currently working on a dissertation on cultural philanthropy in New York City. Until this year, Ms. Paley was the editor of the New-York Journal of American History, published by the New-York Historical Society. She is on the Board of Advisors of the American Studies program and on the Board of Visitors of the Department of History. She holds an M.A. in American Studies from Columbia and an B.A. in English and Psychology from Vassar.

Patricia Renfro joined Columbia as deputy university librarian in 2000 and leads the Libraries' unique mix of technology organizations, including the Center for New Media Teaching and Learning, the Center for Digital Research and Scholarship, and the Copyright Advisory Office. Major initiatives include the digitization of unique Library collections, the development of a long term digital archive for born digital and digitized materials, and the development of Columbia's Academic Commons repository. She has a B.A. from the University of York, England, a Library degree from the University of London and an M.A. from the University of Kentucky.

Jutta Schmiers-Heller has been teaching at Columbia University since 2002. She came to the United States on a Fulbright Scholarship in 1996 and taught German at Oberlin College in addition to serving as director of Max Kade German House. Before joining the Department of Germanic Languages at Columbia University, she taught ESL, French, and German at Montclair State University and also pursued graduate studies in Applied Linguistics. Jutta Schmiers-Heller's research interests are in the areas of second language acquisition, foreign language methodology, computer assisted language learning and materials development. She holds a M.A. in Foreign Language Pedagogy from the University of Münster in Germany.

Michael Shapiro is a professor at the Journalism School at Columbia University. He worked at newspapers in New Jersey and Chicago for five years before becoming a magazine writer. His work has appeared in such publications as The New Yorker, Esquire, The New York Times Magazine, and Sports Illustrated. He is the author of five non-fiction books, Japan: In the Land of the Broken Hearted, The Shadow in the Sun, Who Will Teach for America, Solomon's Sword and The Last Good Season. Shapiro received his M.A. at the University of Missouri.

Susan Witte is the associate director of the Columbia University School of Social Work Social Intervention Group. The author of several publications, her experience includes direct practice, community organization, and administration work in the areas of HIV/AIDS and adult and child sexual violence. Witte's research focuses on designing, testing and disseminating HIV/STI prevention interventions aimed at women and their male partners; female-initiated STD/HIV barrier methods; the infusion of multimedia technologies in research, teaching and practice; and designing, testing and disseminating services targeting the needs of sex workers and drug dependent fathers.

Laureen Zubiaurre D.M.D., M.S., is an associate professor of Clinical Dentistry in the Division of Restorative Dentistry at the Columbia University College of Dental Medicine. Her responsibilities include both didactic and clinical teaching of predoctoral dental students. She is currently the director of the third year predoctoral clinical program and course director of the Introduction to Clinical Practice course. Dr. Zubiaurre received a M.S. degree from Columbia University Teachers' College and is currently pursuing a Ph.D. in Science Education at Teachers College. She received D.M.D. from Fairleigh Dickinson College of Dental Medicine.