Help Documentation
Learn more about...
The MSE Interface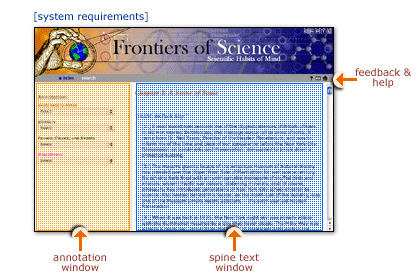 Spine Text Window
The core text of the Frontiers of Science is referred to as the "spine text." The spine text contains seven chapters, and the chapter navigation is on the gray bar above the spine text.
Text
Underlined terms and phrases in the Frontiers of Science text are linked to annotations which are to be read in the left hand window. The annotated terms are grouped by the spine chapters.
Annotation Window
The textual definitions in the smaller annotation window may also have sub-pages offering multimedia such as primary and secondary text excerpts, relevant Web sites for further research, and offline resources for further reading.

note - the textual annotation

resources - pertinent web sites and offline resources for further reading

images - relevant images

related terms - links to other annotations associated with the current annotation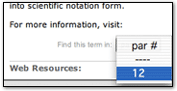 If you come to an annotation from another annotation, this function will allow you to autoscroll the spine text to any chapter in which the annotation appears.

Feedback/Help
| | |
| --- | --- |
| | Access to Help Documentation |
| | Access to the Feedback form |
| | Return to this Prologue site |
---