Partner(s): Courtney Bender
Columbia College

Access: Columbia only
Released: September 2006

In Courtney Bender's Religion and the City course at Columbia University, maps and mapping technologies help students better conceptualize the impact of larger social trends on religious groups. Students conduct individual research projects on religious sites in Manhattan and investigate how population and economic changes in the city have influenced those sites. The course trains students in anthropological, historical, and sociological approaches to religious studies.
Each year Professor Bender launches a new version of the project with a new group of students. A collection of the best of Sacred Gotham is accessible to members of the Columbia community. These sites allow readers to track perspectives and trends as different classes study religious presence in the city.
Project Details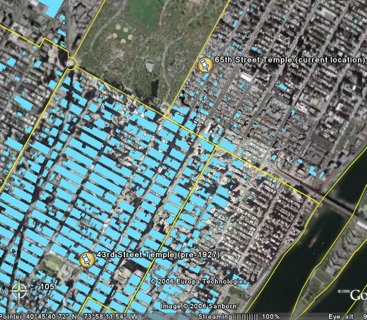 A Columbia student maps temple locations in New York City against land use data and publishes her findings for the class.
Sacred Gotham extends a map-based, collaborative study environment -- developed by CCNMTL in partnership with Professor Courtney Bender in 2006 -- to religion classes at Columbia, Creighton University, and the University of Toronto. Like Professor Bender here at Columbia, instructors at Creighton and Toronto are emphasizing a spatial approach to analyzing local religious institutions, and they are exploring the capacities of digital technologies to support this emphasis in their teaching.
Multimedia tools developed by CCNMTL for this type of analysis include map overlays that enable students to visually represent a range of demographic and sociological features of local topography, as well as a small set of digitally-archived "historical maps". These materials supported both historical assignments (in which students are asked to analyze their site through time) and comparative assignments (in which students are asked to compare their overall findings with other sites). Students post their work on a communally-accessible wiki, and are encouraged throughout the term to comment on each other's projects and to seek out interesting points of intersection or comparison.
Extending this model to disparate areas of the North America, Sacred Gotham will foster analysis across regions, giving students a means to compare dynamics in their location with that of others, identifying connections and trends across sites. The project will enable students at participating institutions to access a common pool of data, mapping and visualization techniques. In addition, Sacred Gotham allows instructors invested in the study of religion and place to share teaching techniques, resources, and observations.
Elements of Sacred Gotham include:
- Wiki spaces created for each participating class configured to facilitate communication and collaboration between institutions.
- An online resource hub containing mapping tools; texts and other doctrinal materials; archival and contemporary images of religious architecture and activity; and census, land-use, transportation, and other datasets made available as visualized layers on maps.
- A discussion board for participating and invited religion instructors.
The strongest students work in Sacred Gotham, identified by participating faculty, will be elevated into a publicly accessible space dedicated to advancing teaching and learning centered around the relationship between religion and place. This open site will serve as a valuable means of regional comparison even for instructors at institutions not participating in the project. It will unfold a national story of how we are living with and adapting to religious diversity, and how conceptions of North America's "religious" or "secular" destinies continue to shape our shared moral sensitivities.