Allbritton Communications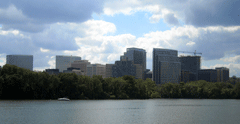 Across the Potomac River from the Washington Post, in Arlington, Virginia, Robert Allbritton wanted to start his own new political news product. The 35-year-old Allbritton owned Allbritton Communications, a profitable television empire that included Washington, DC's ABC affiliate, Channel 7, as well as eight other ABC stations around the country, from Alabama to Arkansas, Oklahoma, Pennsylvania, and South Carolina.
Allbritton Communications was a family-owned company, previously operated by Robert Allbritton's father, Joseph. When he first began accumulating media properties in the 1970s, Joe Allbritton briefly owned the Washington, DC, paper the Washington Star.[1] He sold the Star to Time Incorporated within a few years; Time shut down the newspaper a few years after that. Robert Allbritton, who had since taken the helm of Allbritton Communications, wanted to acquire his own DC newspaper—preferably covering Capitol Hill.
There were already two newspapers that covered Capitol Hill exclusively. Roll Call was founded in 1955 to cover Congress. Former New York Times reporter Martin Tolchin founded a competing publication, The Hill, in 1994. In 2006, The Hill had the higher circulation of the two, but Roll Call, perceived as the dominant newspaper in the market, was more profitable. Both benefited from DC's unique market of advertisers, which included lobbyists and interest groups eager to influence Congress by advertising in the newspapers its members read. Moreover, because The Hill and Roll Call had small circulations—both under 25,000—their advertising rates were lower than in more widely-circulating national newspapers such as the Washington Post. A full-page advertisement in either of the two Capitol Hill papers cost around $10,000; it could cost 10 times that amount for a full-page advertisement in the Washington Post. The Capitol Hill papers' narrow audience and cheap ad space made them attractive to advertisers intent on reaching members of the government.
In 2005, Allbritton investigated buying The Hill, but balked at the price tag of $40 million. He reasoned that it would cost under $10 million to start his own newspaper, and that there were likely more than enough wealthy and willing advertisers to support a third newspaper on Capitol Hill. He could also entice advertisers with packages—space both in his new newspaper and on Allbritton television stations.
In September 2006, he announced via press release that Allbritton Communications planned to launch a new newspaper, the Capitol Leader, in November 2006. He had recruited The Hill's Tolchin, who had retired in 2003, to help him start the newspaper.[2] Tolchin planned to recruit a staff of about 14 young reporters, whom he could hire at relatively low salaries, and a few editors.[3] He also hoped to hire an executive editor to manage the paper's overall daily content; Tolchin himself wished to retire again soon after the newspaper launched.[4]
---
[3] Chris Kirkham,
"Yet Another Newspaper Aimed at Capitol Hill."