The NMC Horizon Report 2014 and Columbia
Earlier this year the New Media Consortium released the 2014 Horizon Report for Higher Education detailing the potential impact that emerging technologies will have on school policy, practice, and leadership. The report is a collaboration between NMC and the EDUCAUSE Learning Initiative.
The report opens with technology trends that are organized around three horizons: Fast Trends, Mid-Range Trends, and Long-Range Trends. The report also describes significant challenges for higher education technology adoption. The report concludes with a list of technologies along with adoption timelines divided into one year or less, two to three years, and four to five years.
The 2014 Horizon Report is freely available on the NMC website and was released under a Creative Commons license. Copies of the report are also available for browsing at the Faculty Support Lab (204 Butler Library).
The following three-minute video explains the report's revamped format and touches on upcoming trends in the use of technology in higher education:
Columbia University and the Horizon Report
For each section of the report, NMC has included a list of related resources and projects. Below you will find a summary of the three sections of the report along with links to resources related to Columbia's own work (spearheaded by CCNMTL or other schools and centers).
Key Trends Accelerating Higher Education Technology Adoption
Fast Trends: Driving changes in higher education over the next one to two years
The report identifies social media and the integration of online, hybrid, and collaborative learning as driving the changes in higher education. CCNMTL offers a workshops for faculty on techniques for online, hybrid, and collaborative learning as well as social media in education through its rewirED series.
Mid-Range Trends: Driving changes in higher education within three to five years
Many education technologies allow instructors to collect data to personalize learning for students. Other tools allow for students to remix and produce content. As personalized learning and student produced content trends evolve, CCNMTL has developed approaches to both and continues to work with instructors on implementing them. Currently on Columbia's campus, instructors are able to use data collected from course management tools and clickers to monitor student understanding. In this video from CCNMTL's New Media in Education 2013 conference, Dan Beeby of CCNMTL and Lisa Minetti of Columbia's School of Continuing Education discuss what one can learn about course design and teaching practice by analyzing student behaviors and course data.
Mediathread, an open-source tool developed by CCNMTL, allows students to individually or collaboratively produce multimedia texts and share these newly produced texts with instructors, peers, and the world. To learn more about Mediathread, take a peek at the video below.
Long Range Trends: Driving changes in higher education in five or more years
"Agile startup models" and "online learning" are two more trends identified by NMC and are developing at Columbia. The Venture Lab at Columbia Technology Ventures is a resource for students and faculty interested in entrepreneurship and startups. Columbia Business School's Entrepreneurial Greenhouse Program is a semester-long graduate level class designed to help Columbia MBA's launch startups upon graduation.
CCNMTL's Online Learning Initiative hosts talks, supports the development of custom online projects, and facilitates other online learning efforts on campu, including MOOCs. Barnard and Continuing Education at Columbia have also produced and contributed MOOCs through the Coursera platform.
Significant Challenges Impeding Higher Educational Technology Adoption
Solvable Challenges: Those that we understand and know how to solve
NMC identifies the need for faculty to develop digital media literacy skills. According to the report, digital literacy is less about tools and more about a way of thinking about technology. Integrating technologies in the classroom requires an investment in time and experimentation. Compounding this issue is a current lack of rewards in academia for taking the time to develop teaching skills when the system is set up to reward time spent on research.
One of CCNMTL's main objectives is to help faculty develop new approaches to thinking about using technology in the classroom. In addition to open faculty lab hours in Butler 204, free educational technology consultations, and workshops, CCNMTL offers the rewirED series. Faculty that attend rewirED workshops meet regularly with a small cohort to discuss their current course design. Activities are designed to help attendees develop new ways of thinking about technology and course objectives.
Difficult Challenges: Those we understand but for which solutions are elusive
The horizon report observes that new models of education such as MOOCs, personalized instruction, and the flipped classroom are competing with lecture based courses for student attention. It is easy to get confused among all of the new models, and finding an entry point to try any one of these in the classroom may be challenging. CCNMTL continues to be committed to studying these models for potentials to solve teaching and learning challenges in the classroom. CCNMTL helps faculty iterate new teaching interventions into their teaching practice while managing potential disruptions to student learning. Anyone may read about our work exploring new teaching models and more on our EnhancED blog.
Wicked Challenges: Those that are complex to even define, much less address
According to the Horizon Report, "over the next 12 years, the World Bank estimates a 25% increase in global higher education attendance from 200 to 250 million." The drive to provide education to all those that want it around the globe is a challenge that is currently increasing quickly as populations of young people around the world increase. Online learning is seen as a key to increasing access to higher education. At the same time, colleges and universities face the challenge of keeping education relevant.
CCNMTL has some experience in approaching these wicked challenges. In addition to the recent experience gained from MOOCs and other online learning initiatives, back in 2008, CCNMTL partnered with Jeffrey Sachs to develop the infrastructure for a Global Classroom on Sustainable Development. This project provides a masters-level course, "Integrated Approaches to Sustainable Development Practice," and connects students from universities around the world. Today CCNMTL reaches even larger audiences with courses produced for MOOC platforms Coursera and edX.
Important Developments in Educational Technology for Higher Education
Time-to-Adoption Horizon: One Year or Less
Flipped Classroom
In addition to offering workshops and support "flipping" the classroom (like the efforts recently described by CCNMTL educational technologist Michael Cennamo in Flipping the Biochemistry Classroom), CCNMTL also has projects like Frontiers of Science and LEADERS that allow instructors to assign lectures to be viewed for homework. By assigning the lectures for homework, there is more time for other teaching innovations during class time such as live experiments, group work, debates, and problem based learning.
Learning Analytics
CCNMTL and Teachers College professor Ryan Baker recently finished a MOOC on big data in education. Many of the services CCNMTL supports offer some data that may be used by professors to measure student participation and anticipate success. For instance, Columbia's Sakai-based LMS, Courseworks, offers a site stats tool that allows instructors to track student activity and resource access. Wikispaces and EdBlogs also provides some data points for faculty to use. As the field of learning analytics evolves, we hope to work closely with faculty to take advantage of new opportunities.
Time-to-Adoption Horizon: Two to Three Years
3D Printing
Columbia University Libraries has a 3D printer and offers regular workshops on designing models for the printer. 3D printing may be used by students and instructors to print out models or artifacts, such as museum artifacts or mechanical pieces, they may otherwise not be able to handle physically or closely observe. 3D printers may allow students and faculty to manufacture prototypes otherwise impossible to build without access to complex production means.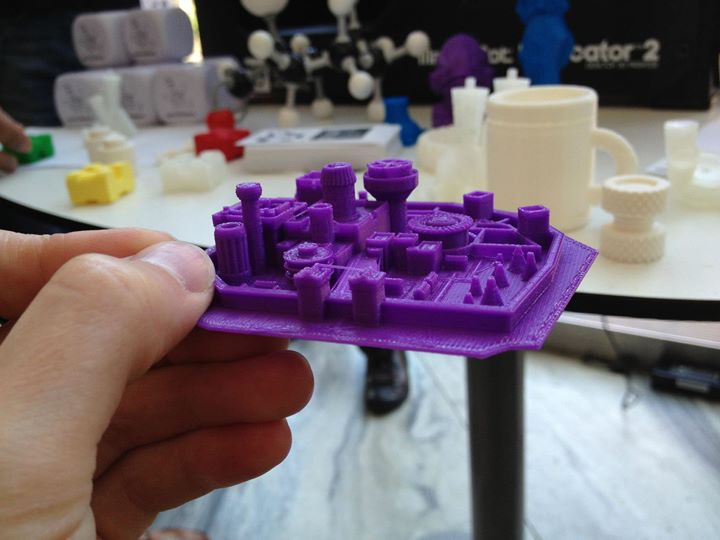 Games and Gamification
Gamification, the use of game thinking and mechanics in non-gaming contexts, is one of the many wonderful things that may be experienced at the Teachers College Games Research Lab. The lab studies traditional game play but also designs and pilots games for change and game design to solve serious problems in the world such as race relations and climate change.
Over the past 15 years, CCNMTL has worked with Columbia professors to develop over twenty simulations and multimedia case study activities that include game thinking and mechanics to help students demonstrate understanding of the interconnected relationships of complex ideas in various fields of study.
Time-to-Adoption Horizon: Four to Five Years
Quantified Self and Virtual Assistants
At the time of writing, CCNMTL isn't aware of activities related to these developments happening at Columbia. They are on the far horizon, and we will be keeping close watch as these trends start to appear on campus.