In Conversation: Curating Medieval Manuscript Exhibits in the Digital Age with Professor Susan Boynton
Medieval manuscripts, oftentimes secured tightly in library preserves, are being digitized and scholarly research—from Professor Susan Boynton's historical musicology students—is being brightly lit up with images, audio, and digital analysis at chantmanuscripts.omeka.net thanks to a Hybrid Learning Award from Columbia University's Office of the Provost. The media is available to the web-connected world thanks to the students' digital exhibits.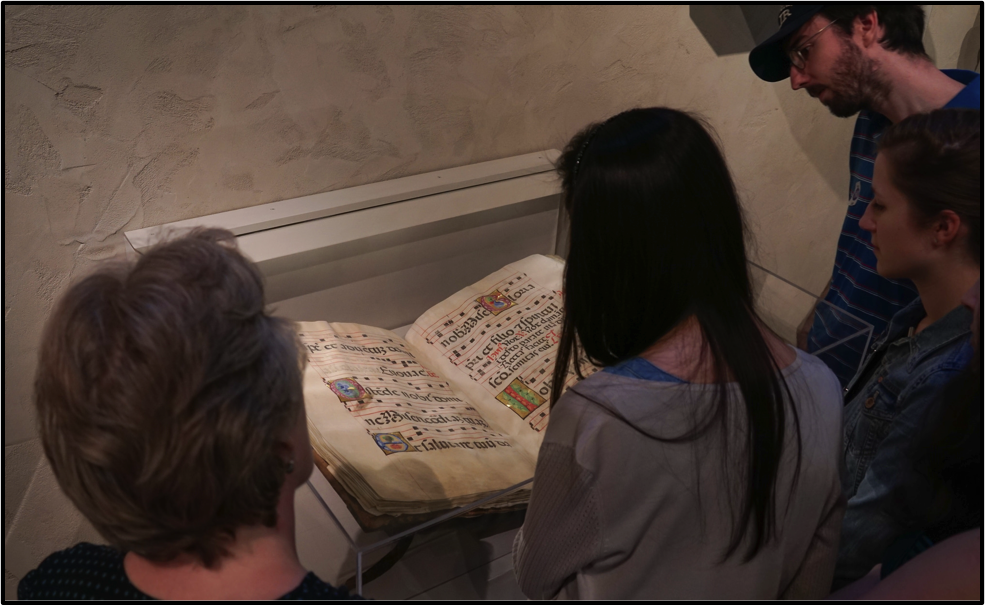 Professor Boynton's Historical Musicology class touring The Cloisters.
Professor Boynton of the Music Department won a Hybrid Learning Award for her graduate seminar, Historical Musicology in the Medieval Ages. The course is centered around 14th-century medieval manuscripts with a particular focus on Western Manuscript 097 which is held in Columbia University's Rare Books and Manuscripts Library (RBML). Hybrid Learning funds were used for curation consultation and compensation for chant singers. The digital photographs of the manuscript allow for unconstrained viewing access not only for the class but also for those interested in chant manuscripts on the web. The class will be contributing to this community by developing online exhibits with these digital copies in a searchable, organized manner. The exhibit features carefully vetted metadata content, in-depth analysis of Western Manuscript 097 & Plimpton 034, translations from Latin into English, audio chants, and a system for collecting additional manuscripts.
Columbia Center for New Media Teaching and Learning (CCNMTL) Media and Production Coordinator Michael DeLeon and Educational Technologist Andre Laboy supported this project by capturing chant audio and video from a Columbia-produced performance at the Church of Notre Dame. Laboy also supported the class's implementation of Omeka.net—a content management system often used by libraries and museums for digital exhibits.
Laboy spoke with Professor Boynton about her initial reflections on blending her course.
Why did you apply to this provostial initiative? What are the benefits for blending your course?
I applied in order to give my students an opportunity to learn digital humanities in greater depth than I have been able to do before, employing more active learning rather than passive consultation of resources. The benefits to the students include training, skills, and experience in digital humanities techniques. I also wanted to create digital resources that would be of use to scholars and the libraries. The benefits to the educational community include the new digital resources we have created in the course, and will continue to create with the impetus of this semester's seminar.
Since receiving this award, how has the implementation process been? Did you encounter any challenges getting started?
The implementation process has been mostly excellent and smooth. The only disadvantage of the quick turnaround was that we [needed to utilize a more simple online exhibit platform]. The challenge getting started, choosing and configuring the software, was mostly handled by CCNMTL.
This is a new way of teaching for you, but also for your students. How are they reacting to this new approach?
The students are very resourceful and adapt quickly to the new approach. They seem to thrive in hands-on learning environments.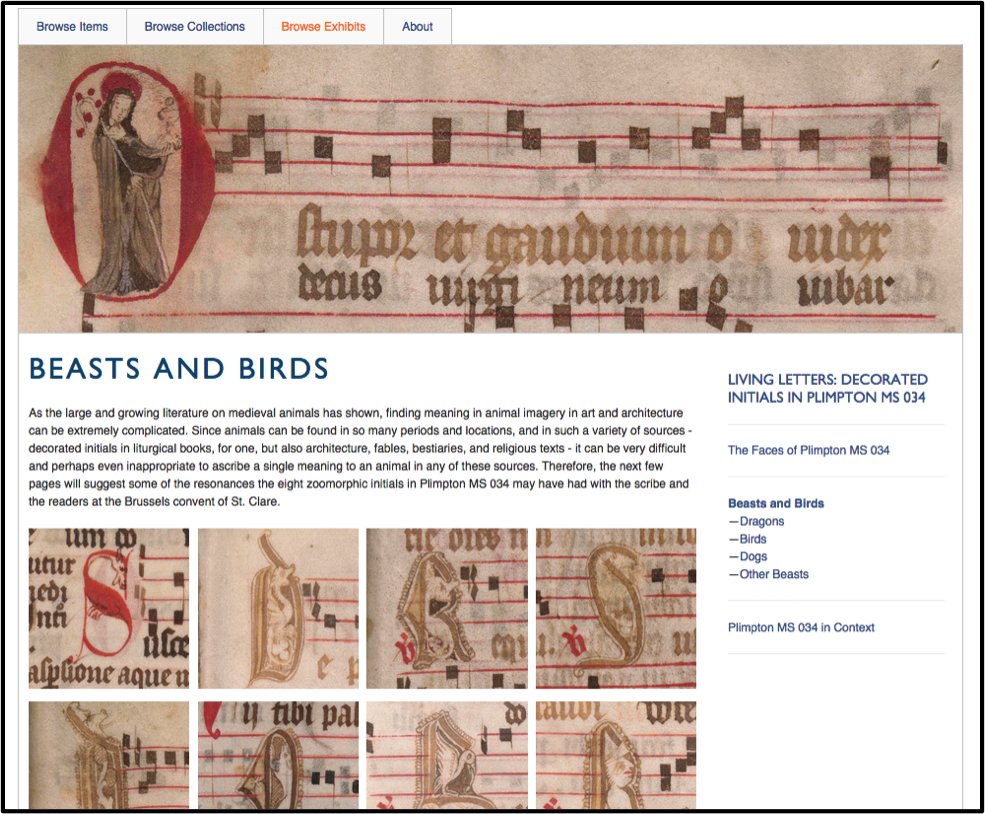 Sample student exhibit highlighting beasts and birds found within Plimpton MS 034.
Do you have any advice for other faculty who are considering blending their courses? Why should they do it? What should they expect?
I advise other faculty to choose their goals carefully and have in mind one major outcome that can be the focus of the entire course or project. The reason to apply for this particular initiative is the in-kind support from CCNMTL, which makes it possible to accomplish more in one semester than would otherwise be possible. [Faculty] should expect to spend considerable time consulting with the students and with their educational technologist, and working on their own, to reach course goals and fine-tune their approach.
How would the class have been different without the Hybrid Learning Award?
It would have been the seminar as I have taught it in the past, in which students' final assignments take the form of a presentation and a write-up. There would have been no lasting, public digital outcome. The students would not have learned how to use omeka.net and would not have created their projects in the digital environment.
---
We have enjoyed working with Professor Boynton to develop and evaluate this new approach. If you'd like to learn more, please visit chantmanuscripts.omeka.net/.