On Saturday, November 15, Professor Peter Bower, Senior Lecturer in Environmental Science at Barnard College, presented at the Science Education for New Civic Engagements and Responsibilities (SENCER) regional conference. Professor Bower discussed teaching with Brownfield Action––a simulation tool that he built with CCNMTL, and has been using in his Introduction to Environmental Science course for more than a decade.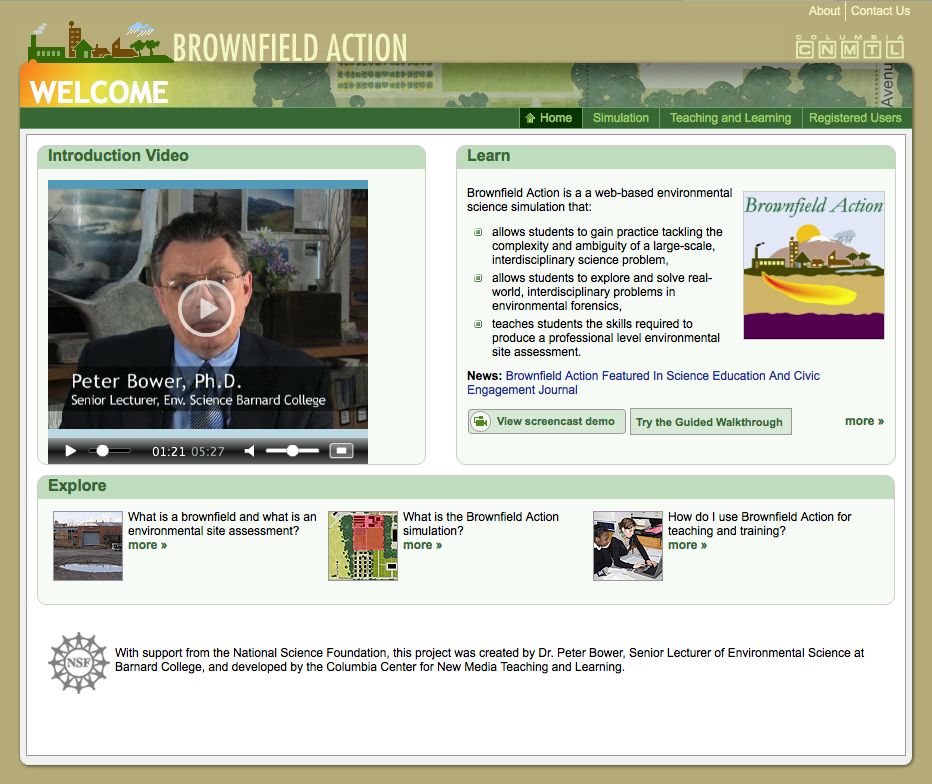 In 1999, Professor Bower first introduced Brownfield Action as a pioneering approach to teaching environmental science. The underlying pedagogy is that of problem based learning in which students are presented with maps, documents, videos, and an extensive network of scientific data to diagnose sources of groundwater contamination in a simulated environment. Students work in groups assuming the role of an environmental consulting firm contracted by a real estate developer to study the condition of the site and report on the feasibility of commercial construction.
Over the years, the simulation has ammased an impressive list of student and faculty testimonials, in addition to a nationwide network of faculty who use it in their courses and meet for an annual conference.
At the recent SENCER conference, Professor Bower discussed the ongoing problem of brownfields––property that cannot be developed because of potential contamination from previous inhabitants such as gas stations or industrial facilities––and how the simulation has enhanced the depth of student engagement with the issue. SENCER began with a 2001 National Science Foundation grant to improve STEM education and has developed into a national network of educators, centers, and institutional partnerships devoted to connecting science learning to real-world challenges.
Related news:
Mar-26-2014: Journal Article Describes Brownfield Action's Use for STEM Education
Jul-01-2013: SENCER Newsletter Features Brownfield Action
Feb-23-2011: Brownfield Action Featured in Science Education and Civic Engagement Journal
Sep-30-2009: NYC Students Explore Brownfield Action Simulation
Jan-23-2009: Columbia Spectator Highlights Brownfield Action Simulation
Apr-10-2008: Barnard Announces New and Improved Brownfield Action 3.0
Dec-19-2007: Award Received for Brownfield Action Seminar
Oct-10-2007: Brownfield Action Expands Its Reach
Sep-28-2007: Environmental Science Simulation Enhances Curricula at East Coast Colleges
Feb-20-2007: Brownfield Action Grant Announced on Barnard Newscenter