On March 16th, 2015, Suzan-Lori Parks was awarded the Edward M. Kennedy Prize for Drama Inspired by American History for her play Father Comes Home from the Wars, Part 1, 2 & 3. Parks is MacArthur "Genius" Award recipient, a Pulitzer Prize winner, and an OBIE awardee. In addition to being an accomplished playwright, novelist, essayist, performer and songwriter, she teaches at NYU and serves as the Master Writer Chair for the Public Theater.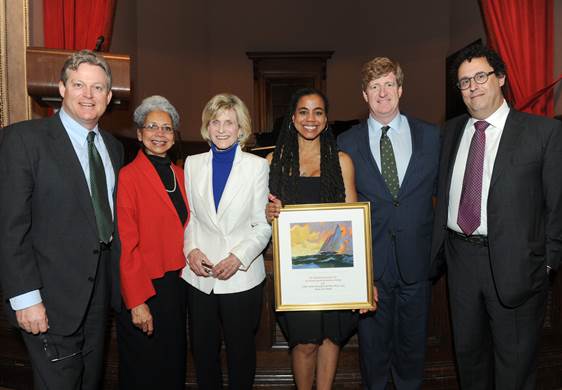 (L-R) Edward M. Kennedy Jr., Francis Parks, Jean Kennedy-Smith, Suzan-Lori Parks, Patrick Kennedy, and Tony Kushner at the EMK Award Ceremony
CCNMTL has already started collaborating with Suzan-Lori Parks to develop an educational website for her play, to be released later this summer. Past winners of the EMK Prize include: Dominique Morisseau, Detroit '67 (2014); Dan O'Brien, The Body of an American (2013); and Robert Schenkkan, All the Way (2013).
The award, known as the EMK Prize, was created by Ambassador Jean Kennedy Smith to honor the life and legacy of her brother Ted Kennedy, the late senator from Massachusetts. The prize is administered annually by the Columbia University Libraries/Information Services and consists of a $100,000 award as well as an educational website to promote understanding of the works.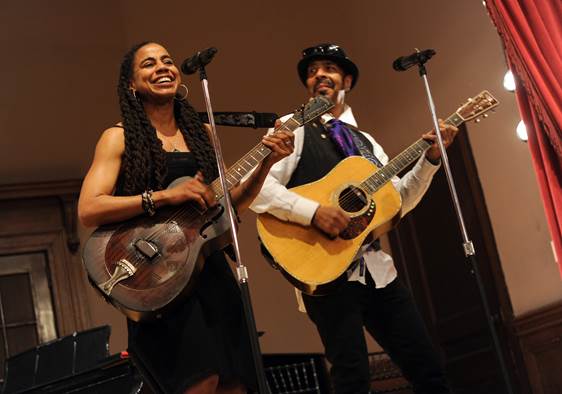 Suzan-Lori Parks and Steven Bargonetti perform at the EMK Award Ceremony
Related news:
Oct-08-2014: Columbia University Launches Website Dedicated to 2014 Edward M. Kennedy Prize Winner
Mar-20-2014: Video: Dominique Morisseau Discusses Winning the Edward M. Kennedy Prize
Oct-30-2013: Columbia Launches Websites Dedicated to Edward M. Kennedy Prize-Winning Plays