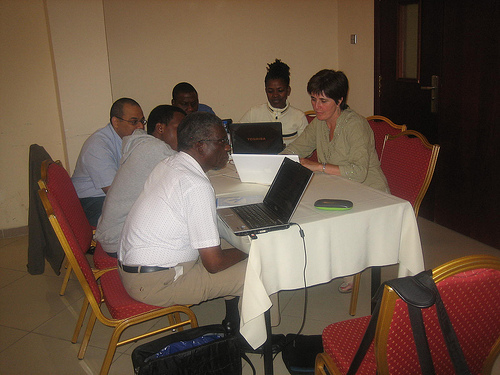 July 22, 2009. A case study developed by CCNMTL and faculty partners from Columbia University's Averting Maternal Death and Disability (AMDD) Program received overwhelmingly positive reviews at a recent African regional conference, Human Resources for Maternal Survival: Task-Shifting to Non-Physician Clinicians, in Addis Ababa, Ethiopia. CCNMTL piloted the case study at the conference in preparation for devising a broader multimedia case and training materials for a new course on maternal health offered at the Mailman School of Public Health.
The four-day conference, hosted by the Federal Democratic Republic of Ethiopia Ministry of Health, AMDD, United Nations Population Fund, and UNICEF, focused on exploring strategies for developing and deploying NPCs as a means to expanding emergency obstetric care and enhancing the healthcare workforce in Africa. The conference sought to further AMDD's mission and the achievement of the UN Millennium Development Goal 5, both of which aim to reduce the maternal mortality ratio and improve availability, quality, and utilization of emergency obstetric care. This goal continues to prove challenging as a woman dies every minute of complications related to pregnancy and childbirth, and 99 percent of these deaths occur in developing countries.
CCNMTL partnered with AMDD to develop a case study that addressed the different components of the "enabling environment" that would support NPCs and institutionalize their functioning; these components include human resources management, human resource policy and planning, referral, infrastructure and commodities, regulation policies, and quality of care. In the case study, a fictional country, "Lanretam," is faced with managing a national program to scale-up NPCs and case participants play the role of experts who review midterm evaluation results and advise the government on strategies to create an enabling environment.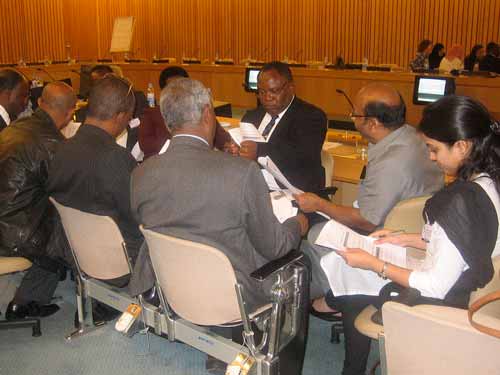 AMDD presented the case to conference attendees, who then broke into small groups to discuss and analyze the scenario. CCNMTL Educational Technologist Michelle Hall was also on hand to observe the case in action and collect feedback, which proved favorable. Conference attendees emphasized the utility and innovation of the exercise, noting that it helped them to think critically about similar issues in their country and enabled them to share experiences and learn from one another.
"The case study provided participants with an excellent opportunity to explore the enabling environment for NPC deployment without being caught up in the specific details of their own country," explained Helen de Pinho, associate director of AMDD and assistant professor of clinical population and family health at the Mailman School of Public Health. "It was so realistic we even had some people momentarily believing that 'Lanretam' was a real country."
Following the encouraging response to the case, CCNMTL is working with AMDD to make it accessible on a website for use by conference participants and AMDD partners.