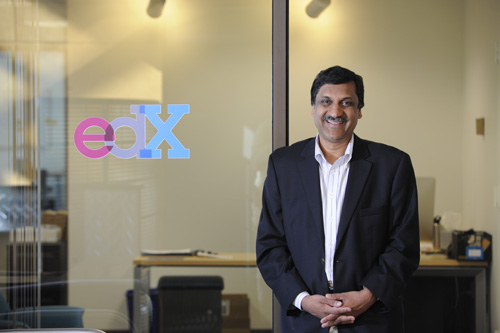 Anant Agarwal, president of edX, an online learning destination founded by Harvard and MIT, will give a presentation at Columbia University on Thursday, March 13 at 3:00PM in 203 Butler Library. The event is free and open to the public.
Agarwal taught the first edX course on circuits and electronics from MIT, which drew 155,000 students from 162 countries. His talk, "Reinventing Education," will focus on edX and massive open online courses (MOOCs) in higher education.
The talk is part of the Conversations on Online Learning series sponsored by the Office of the Provost and the Columbia Center for New Media Teaching and Learning. A video of the event will be publicly available after the event. Videos of past talks in the series are available on CCNMTL's YouTube channel.
Anant Agarwal is the president of edX and is a professor of electrical engineering and computer science at MIT. He has served as the director of CSAIL, MIT's Computer Science and Artificial Intelligence Laboratory. He is a successful serial entrepreneur, having co-founded several companies including Tilera Corporation which created the Tile multicore processor, and Virtual Machine Works.
Agarwal won the Maurice Wilkes prize for computer architecture and MIT's Smullin and Jamieson prizes for teaching. His work on Organic Computing was selected by Scientific American as one of 10 World-Changing Ideas in 2011, and he was named in Forbes' list of top 15 education innovators in 2012. He hacks on WebSim, an online circuits laboratory, in his spare time.