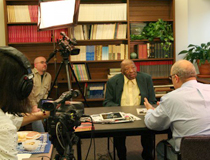 October 26, 2009. The Apollo Theater Project, a multifaceted effort to preserve and disseminate the history of the Apollo Theater and its Harlem community, made its educational debut in classrooms this fall semester.
The project represents a unique partnership between the historical Apollo Theater, Columbia faculty, and Columbia's Information Service organizations to achieve intersecting educational, artistic, and research ambitions. Since summer 2008, CCNMTL and the Oral History Research Office (OHRO) have compiled audio and video interviews with cultural and political figures connected with the 75-year history of the Apollo Theater. These interviews, with the likes of Smokey Robinson, Quincy Jones, Dionne Warwick, and more, will inform a documentary of the theater's history and provide the basis for a rich research archive.
While the compilation of interviews remains a work in progress, CCNMTL has partnered with faculty to adapt raw footage from the project for classroom and online use. For instance, Ruksana Sussewell has implemented interviews in her Oral History Fieldwork and Documentation course, which is offered in the Oral History Master of Arts (OHMA) program at Columbia. Sussewell's students will use the CCNMTL-developed video tool VITAL (Video Interactions in Teaching and Learning) to analyze the interviews and to study techniques used in the interview process. This exercise will aid students in designing and conducting research interviews for their own thesis projects.
Additionally, guest lecturer Jennella Young, who is also the coordinator for the Apollo Theater Project, has used footage from the project in seminars attended by students from Cornell University and the Calhoun School. Young had students view interviews of Charlie Rangel, Shirley Caesar, Thelma Prince, and others as they explored topics ranging from the history of African American entertainers in the 1950s to the similarities and differences between oral history and journalism.
As the Apollo Theater Project unfolds, CCNMTL continues conversations with faculty affiliated with Columbia's Center for Jazz Studies, the Institute for Research in African American Studies, English and Comparative Literature, and other programs to make materials available and foster educational activities that enable students to engage with this wealth of primary source materials.