Over the last three weeks, the Columbia Center for New Media Teaching and Learning (CCNMTL) and the Center for Technology and School Change (CTSC) at Teachers College hosted eleven educators from Bulgaria for a program to learn about the latest pedagogical and technological innovations.
Called the Educational Leaders' Training Program, the workshops were part of an initiative supported by the Institute of International Education, an independent non-profit organization. In program included mentoring with teachers at innovative, high-performing New York City schools coordinated by CTSC. The Teachers College Office of International affairs collaborated in the effort.
CCNMTL provided a series of workshops for the program based on its experience working with thousands of Columbia faculty to enhance teaching and learning through the purposeful use of new media and technology.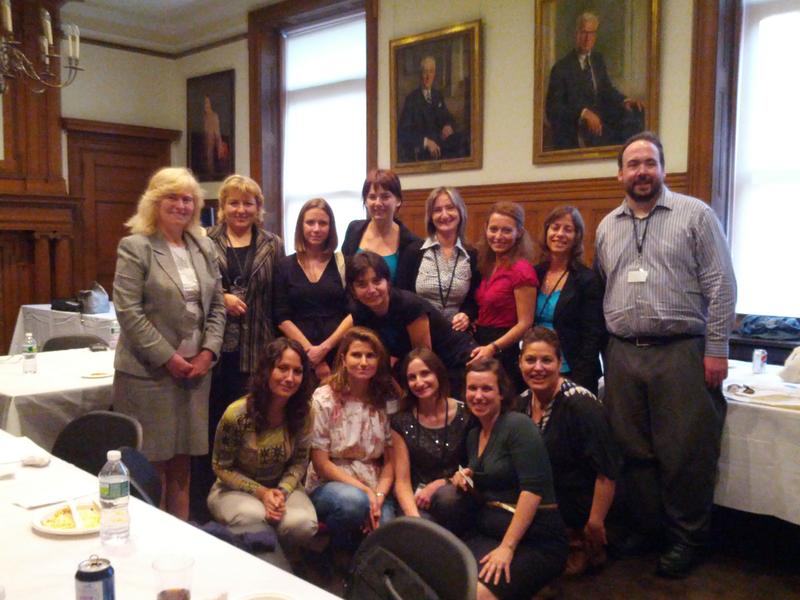 "We have a unique way of integrating technology into teaching at Columbia; it's a purposeful, thoughtful approach that involves looking at educational goals first, " said Paul Stengel, one of CCNMTL's educational technologists who coordinated the workshops. "Our visitors can bring the techniques they learn here back to their classrooms in Bulgaria to share with other teachers. It's a great opportunity to share our expertise and participate in an initiative that allows what we do at Columbia every day to impact education around the globe."
Week 1 of the program focused on design, laying the groundwork for a reflective approach to designing teaching materials that use technology in the classroom. Week 2, on assessment, focused on individual inquiry, group collaboration, and methods of assessment for classroom activities using new media technologies. Week 3 focused on leadership, including how well-matched research, technology, and pedagogy can empower a teacher to make purposeful changes to his or her practice.
Six CCNMTL staff members, including the Center's executive director, Frank Moretti, worked together to create and lead nine different workshops for the program. Topics included creating learning communities, new ways of looking at presentations, using digital portfolios, and teaching with simulations.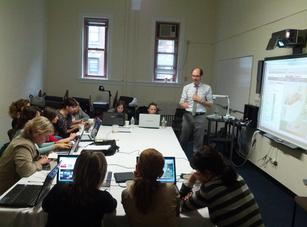 In addition, CCNMTL created an online collaborative space for the program for group assignments and reflection on content resulting from each session. The collaborative space will provide a professional learning community for the Bulgarian teachers in the future, as well as a window into the challenges and successes they encounter applying techniques they learned in the workshops.
Participants described the workshops as "supportive," "positive," and "inspirational," and commented on the usefulness of looking at concrete classroom challenges and how technology can address them.
The Bulgarian Young Leaders Program is one of several workshop programs supported by CCNMTL to train different Columbia groups to integrate new media technology into their teaching. Recent programs include the Summer Institute for Teaching and Learning at CUMC, the Teagle Summer Institute for Graduate Teaching Assistants, and Teaching Residents at Teachers College.