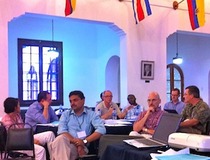 CCNMTL was invited to present at the Global Master's in Development Practice Summit held in late February 2011 in Turrialba, Costa Rica. The summit, hosted by CATIE University, gathered more than 20 participating universities that offer the Global Master's in Development Practice. The schools were represented by close to 70 faculty and administrators.
Ashlinn Quinn, senior program specialist for the Global Learning Initiative, and Rob Garfield, educational technologist for the Global MDP program, gave an overview of CCNMTL's efforts around the Global MDP program, including curricular design and support for the core MDP course Integrated Approaches to Sustainable Development Practice, which is offered in a live "global classroom" format. In addition, Ashlinn and Rob demonstrated related projects, including Journalism Case Studies, the Millennium Village Simulation, the Virtual Forest Initiative and Country X. These projects were used to spark conversations with the participants about potential collaborations with MDP faculty.
Ashlinn and Rob are pursuing many intriguing ideas that emerged from the summit, including possibly developing additional courses to be delivered in the "global classroom" format, online case studies, a custom software tool for students to plan and evaluate healthcare interventions, and more.
Related news:
Sep-25-2009: New Master's Program Offers Global Classroom
Jul-14-2009: CCNMTL Partner John McArthur Discusses Master's in Development Practice in The Huffington Post
Oct-23-2008: CCNMTL Partners with Earth Institute on New Master's Degree