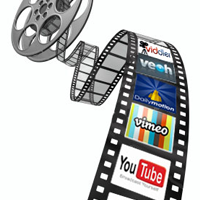 On January 14, CCNMTL Associate Director Peter B. Kaufman moderated the "Smarter Video Marketing" panel at the 2015 Digital Book World Conference in New York. Joining Kaufman on the panel were John Clinton, Director of Digital Video at Penguin Random House; Sue Fleming, Vice President and Executive Director Content and Programming at Simon & Schuster Digital; Scott Mebus, Head of Video and TV at Fast Company; and Heidi Vincent, VP of Marketing at National Geographic Books.
The panel reviewed current trends in video marketing, a hot topic among trade and academic publishers. According to YouTube, some 100 hours of video are uploaded to their platform every minute, and more than 600 billion hours of video are watched each month—over 40 percent on mobile devices—worldwide. Publishers have taken notice, building in-house production studios to develop promotional videos and supplemental content for new publications.
The panelists discussed specific strategies for video marketing on popular social, and news networking sites (i.e. Youtube, Facebook, Twitter, Huffpost, Buzzfeed, etc.). The panel advocated producing short, graphics-driven videos that show the book cover at or near the beginning—the first few seconds count for almost everything. Fast Company's Scott Mebus suggested that publishers focus on treating authors "as a brand," and build consistent messaging across all media.
More generally, the panelists described many of the same issues and challenges with video that the Libraries are facing—funding and monetization; production workflows; storage and preservation; effective descriptive metadata; and discoverability.