For some middle and high school students in New York City, the forest might as well be a foreign country. But thanks to an educational initiative of the Black Rock Forest Consortium and the Columbia Center for New Media Teaching and Learning, these students are visiting the forest to learn about science, and having the forest brought to their classrooms.
The program is an extension of the Virtual Forest Initiative, a project that teaches environmental science with web-based, interactive tools that use real data from the Black Rock Forest north of New York City. In 2011, Black Rock Forest and CCNMTL were awarded a $500,000 grant from the Toyota USA Foundation to develop two educational modules - on chemistry and biology - for Harlem schools. The grant also supports class field trips to the Forest, where students can experience the forest first-hand and apply what they have learned from the online modules.
The first unit, on water chemistry, was launched in 2012 with 11 teachers at 8 different city schools serving disadvantaged youth. Over 300 students used the curriculum, which included 12 activities to do in the classroom, online, and on field trips. Using an online graphing tool developed by CCNMTL and real data from area rivers, students learned how factors such as rainfall, water temperature, pH, and dissolved oxygen affect aquatic ecosystems in a rural versus urban setting.
"The water chemistry module is a gift come down from heaven," said Mauricio Gonzalez, a teacher at New York Harbor School. "I had 19 kids come after school for this. Afterwards I heard great comments from them. The material helped me go through all the basics in a very animated way."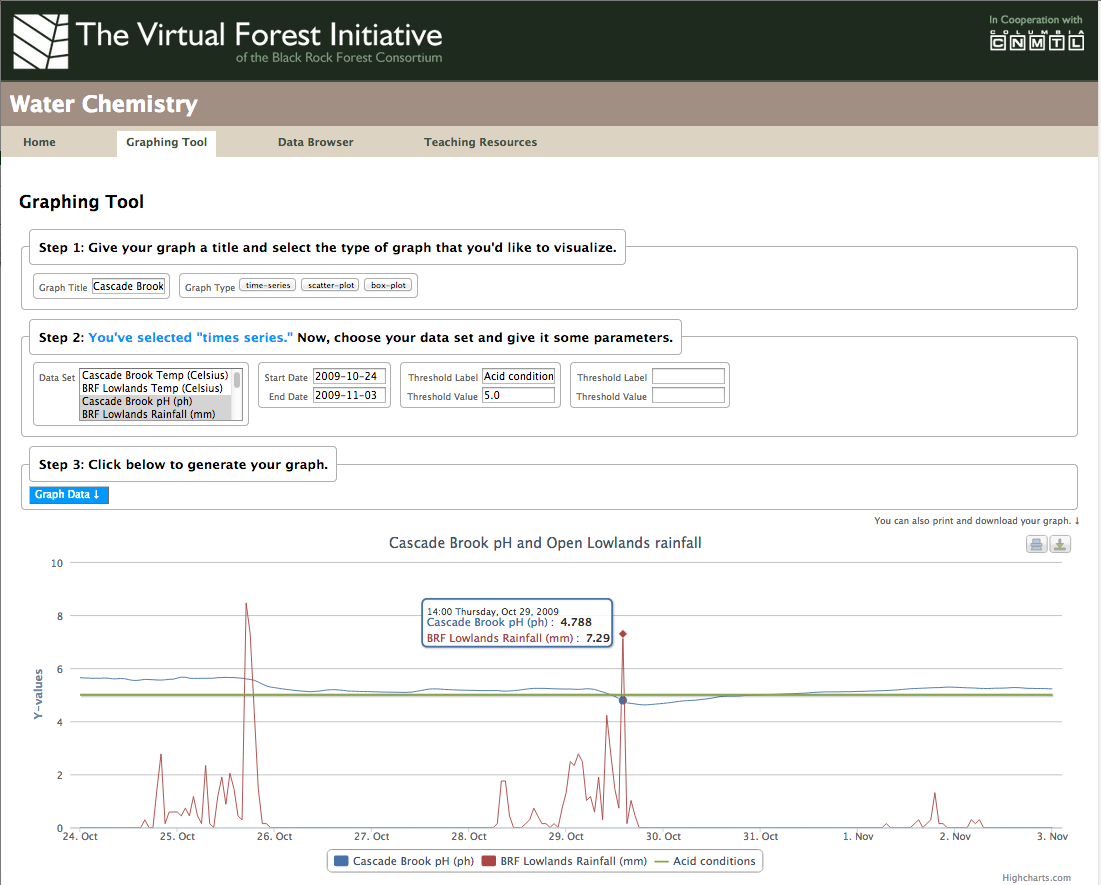 Last week, staff from Black Rock Forest and CCNMTL held a teacher training at the Forest for the second module, which focuses on mammals and habitats. Students will learn what kind of animals live in different habitats and why, as well as explore the connection between form and function (for example, why carnivores have a certain type of teeth). In the spring students will take an overnight trip to the Forest to explore mammal habitats and to learn skills such as using a compass to navigate from one point to another.

About Black Rock Forest
Black Rock Forest, located 50 miles north of New York City in the Hudson Highlands, offers a natural laboratory that comprises 3,830 acres of forest for scientific researchers, educators, students, and the public to visit and study. In 2007, CCNMTL partnered with the Black Rock Forest Consortium to create the Virtual Forest Initiative—a project aimed at supporting and enhancing research, education, and community activities at the Black Rock Forest. In partnership with professors from Columbia University and Barnard College's Earth and Environmental Sciences Department, CCNMTL developed four interactive online educational modules that provide students with lessons on environmental science practices, such as conducting forest sampling, understanding and analyzing tree respiration, and identifying pollen grains and plant macrofossils. These are being used in several courses at the University and are also open to the public.
Learn more about the Virtual Forest Initiative at http://blackrock.ccnmtl.columbia.edu/portal.
Related news:
May-16-2014: Video: Virtual Forest Tools Enhance Science Learning and Research
May-02-2013: With Virtual Forest Initiative, NYC Students Become Citizen Scientists
Mar-02-2011: Toyota Foundation Grant Enhances Science at Harlem HS
Aug-05-2010: Virtual Forest Initiative Featured at the Ecological Society of America Meeting
Mar-11-2010: Barnard Students Engage with New Virtual Forest Module
Jul-09-2009: Virtual Forest Initiative Modules Piloted at Columbia University
Jan-14-2009: CCNMTL Develops Educational Materials and Technologies for the Virtual Forest Initiative