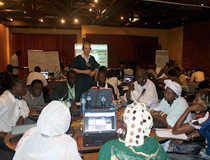 October 19, 2009. Tucker Harding of CCNMTL and Mark Whitlock of the Center for International Conflict Resolution (CICR) traveled to Dakar, Senegal to present Country X —a web-based training simulation for the early warning and prevention of mass killing—to the Economic Community of West African States (ECOWAS) Warning and Response Network at its biennial Focal Points Coordination training. The ECOWAS is a regional group of 15 West African countries that promote integration in all fields of economic activity. Its Warning and Response Network is a system within the peace and security branch of the ECOWAS devoted to conflict prevention, management, resolution, peace-keeping, and security.
During the week-long early warning and prevention training, Harding and Whitlock presented Country X to the director and staff of the Early Warning Directorate based in Abuja, Nigeria and 30 conflict early warning monitors representing government and civil society organizations from the ECOWAS member states. The simulation, currently being used in Professor Aldo Civico's genocide prevention seminar, was created by CCNMTL and Civico as a learning tool for prospective genocide prevention practitioners to understand the varying perspectives of diplomatic, intelligence, military, and civil society communities in countries of rapid instability.
In addition to the presentation, Harding and Whitlock joined workshop participants in the discussion of a range of topics on theory and pragmatic prevention policy and its relation to mass, identity-based political violence in the West African sub-region. The workshops provided CCNMTL and CICR the opportunity to foster a relationship with the ECOWAS and to learn from in-country practitioners on how to improve Country X in future iterations of the simulation for use by Columbia students.
Related news:
Feb-25-2014: Central European Nations Use Tool Developed by CCNMTL for Genocide Prevention Training
Jul-15-2013: Article on Country X Published in Simulation & Gaming
May-07-2012: CCNMTL Simulation Projects Presented at Natural Resource Management Workshop
Feb-22-2010: The Record Publishes Article on Country X
Apr-29-2009: CCNMTL Collects Feedback on Educational Tool for the Prevention of Mass Killing