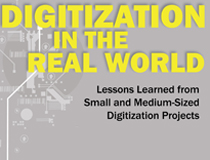 August 16, 2010. The Black Radical Archive, a digital archive created by CCNMTL in collaboration with Columbia English Professor Brent Edwards for the course Black Radicalism and the Archive, is the subject of a chapter in the newly published book, Digitization in the Real World: Lessons Learned from Small and Medium-Sized Digitized Projects.
Digitization in the Real World profiles more than 30 examples of successful efforts to digitize historically significant materials at leading libraries in North America. CCNMTL's Mark Phillipson partnered with Michael Ryan, Director of Rare Book and Manuscript Library at Columbia, in developing the Black Radical Archive website and writing a chapter for Digitization in the Real World.
In "Special Collections, Digitization, and the Classroom: A New Model," Phillipson and Ryan describe how the Black Radical Archive leveraged digitization to involve students in the discovery and description of heretofore hidden collections. The chapter gives an in-depth look at how the Black Radical Archive was produced through the innovative collaboration between Columbia archivists, CCNMTL educational technologists, a faculty member deeply engaged with archival collections, and his students—who made selections of their own and added to the digital archive. The chapter also emphasizes the cross-divisional support for the Archive, its implementation in a Columbia graduate course, and lessons learned from the informal, just-in-time digitization intrinsic to course-driven repository building.
Published by the Metropolitan New York Library Council (METRO), Digitization in the Real World also examines efforts to digitize rare and important materials at the American Museum of Natural History, Jewish Theological Seminary, and Leo Baeck Institute, among others. With each case study, the book sheds light on the strategies, challenges, and perspectives of digitization projects led by universities, libraries, and research centers.
"One of the key findings in pulling together case studies from all across the U.S. was the fact that, while all digitization projects are different, key learnings from successful projects at one library can provide very effective guidance and support for projects at other libraries. This book also presents real-world perspectives tailored to the needs of library professionals, so the guidance is targeted and specific," said Jason Kucsma, emerging technologies manager at METRO and co-editor of Digitization in the Real World.
Digitization in the Real World is available at online vendors including Lulu.com (currently available) and Amazon.com (beginning in September). Learn more about the Black Radical Archive, a Digital Bridges Initiative project.