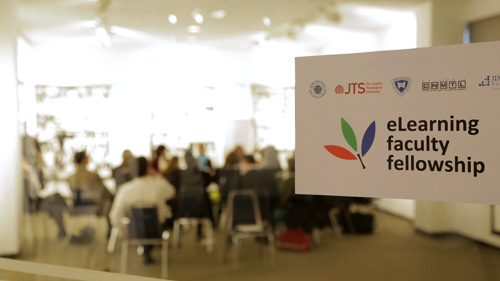 On March 24, eighteen faculty members from three institutions of Jewish higher education— Hebrew Union College, Yeshiva University, and the Jewish Theological Seminary.edu—gathered with staff from CCNMTL at Hebrew Union in New York for the first e-Learning Faculty Fellowship Showcase.
Attendees discussed issues around assessment and community/collaborative student work at faculty roundtables, presented posters describing their projects, and munched on sushi and hors d'oeuvres. Rob Weinberg, director of the Experiment in Congregational Education project at Hebrew Union, moderated a discussion among the participants about how technology has changed their own teaching, their institution, and the state of Jewish education more broadly.
The event marked the conclusion of the year-long fellowship, which supports the design and implementation of educational technology projects in the three partner institutions. Fellows in the program attended workshops to learn strategies, tools, and approaches for using educational technologies to improve student engagement and learning and was asked to design and implement an educational technology in her/her own teaching.
CCNMTL staff members Dan Beeby, Ellen Maleszewski, and Kenny Hirschman designed and facilitated in-person workshops other support resources throughout the year of the fellowship and helped plan the final showcase.
"I was heartened that the fellows each found room for their own interpretations of how technology might impact their own teaching," said Beeby of the event. "They all certainly had an appreciation for the fact that technology in education is never a silver bullet and, when used, should have a specific purpose and be applied in doses that are appropriate to learning goals. Though this realization was universal, the solutions that participants chose—and the depth to which they were applied—were as varied as the subjects they taught."
Orientations are being held this month for a second cohort of sixteen e-Learning Faculty Fellows.
Related news:
Jul-31-2014: ISTE 2014 Conference Draws CCNMTL Educational Technologists
Jun-26-2013: Exploring Digital Tools for Jewish Education and Scholarship
Apr-22-2013: CCNMTL to Collaborate with Jewish Higher Ed Institutions on eLearning Faculty Fellowship