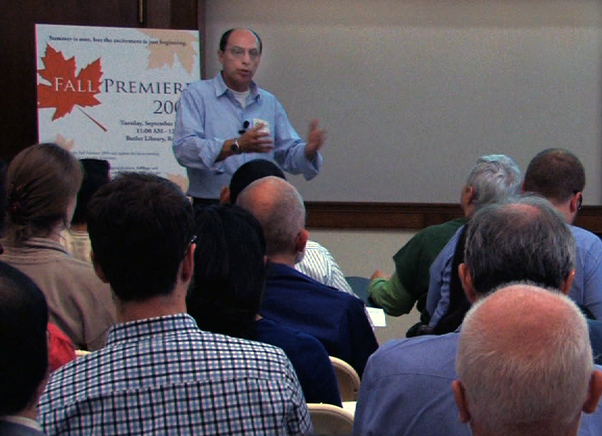 September 9, 2009. CCNMTL welcomed professors back to school yesterday with its Fall Premiere, an annual event for Columbia University faculty to learn about the latest teaching tools. This year's Premiere focused on the launch of three new services supported by the Center— EdBlogs, Wikischolars, and YouTube EDU.
Dan Beeby, associate director of services at CCNMTL, demonstrated the new EdBlogs platform to a packed room of faculty members from more than 35 academic departments at the University. EdBlogs, Beeby explained, can support a range of teaching objectives, from student journaling to reflective writing assignments. Wikischolars, a complementary service to Columbia Wikispaces, was also introduced. With Wikischolars, Columbia's researchers and faculty are provided publicly accessible wikis for scholarship or teaching. Wikischolars does not require UNI authentication and is supported by CCNMTL and the Center for Digital Research and Scholarship.
Following on the heels of last year's Columbia on iTunes U release, Brian O'Hagan, CCNMTL digital media technologist, showed faculty the University's recently launched channel on YouTube EDU. This channel enables Columbia faculty to post educational videos and video-based course content in a Columbia-branded public YouTube site that contains enhanced features like captions, annotations, and tagging.
Finally, Maurice Matiz, CCNMTL vice executive director, encouraged faculty to stay in the know with new media and education by taking advantage of resources like Lynda.com, EnhancED, and CCNMTL's online tutorials.
If you missed the Fall Premiere, stay tuned for a screencast of the event or view the CCNMTL Twitter feed for a recap.