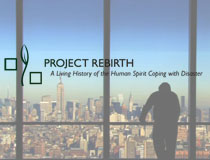 The Columbia community is invited to attend a special screening of the critically acclaimed film REBIRTH scheduled for Thursday, October 27, 2011 from 6:00-8:00 p.m. in the Joyce Berger Cowin Auditorium at Teachers College, Columbia University.
Frank Moretti, TC Professor of Communication & Education, Executive Director, Columbia Center for New Media Teaching and Learning, and member of the Project Rebirth board of directors along with TC alumna Dr. Donna Gaffney of Project Rebirth will introduce the film.
Film Screening: REBIRTH
Date & Time: Thursday, October 27, 2011, 6:00p - 8:00p
Location: Cowin Auditorium, 147 Horace Mann Hall, TC
Contact: Marlena Schroeder, x4198, schroeder@tc.columbia.edu
About the Film
Project Rebirth's film, REBIRTH, is a full-length documentary by award-winning director and producer Jim Whitaker, which premiered at the Sundance Film Festival in January 2011. From early 2002 through 2009, the REBIRTH film crew chronicled the lives of five people directly affected by 9/11. The participants include a survivor from an impact floor of the South Tower of the World Trade Center (WTC); a firefighter who survived the collapse of the WTC but lost his best friend; a high school student who lost his mother; a young woman who lost her fiancé; and a construction worker who lost his brother, assisted with recovery efforts, and is presently helping to build the Freedom Tower. Their narratives are the thread of recovery and resiliency from grief, loss and trauma that comprise the unique message of the film.
Below are links to the Project Rebirth organization website, the film trailer, and a special guide for educators.
Related news:
Apr-24-2012: Newsletter Features Project Rebirth
Feb-11-2011: Project Rebirth Premieres at Sundance Film Festival
Apr-13-2010: Downtown Express Features Project Rebirth and Partners
Mar-29-2010: Project Rebirth Hosts Reception for CCNMTL
Sep-15-2009: Project Rebirth Founder Jim Whitaker in the News
Sep-11-2009: Project Rebirth Gets Local Attention in Roslyn News
Apr-13-2009: CCNMTL Hosts Project Rebirth Event and Preview in Miller Theatre on April 15
Dec-16-2008: With Project Rebirth Columbia and Georgetown Offer Students a Closer Look at Post 9-11 Recovery