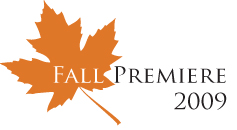 September 4, 2009. CCNMTL invites the Columbia teaching community to attend the Fall Premiere 2009, an annual event for faculty to explore the latest teaching technologies offered at Columbia University. During this one-hour event, you'll see demonstrations of new, collaborative tools including EdBlogs, the University-wide blogging platform, and Wikischolars, a wiki solution for Columbia faculty and researchers. You'll also learn about Columbia's YouTube channel and receive updates on CCNMTL's faculty services including workshops, online tutorials, and do-it-yourself podcasting.
Watch the Fall Premiere Preview Video for a sneak peak of the event, or visit the Fall Premiere website for more info.
Tuesday, September 8, 2009
11:00AM - 12:00PM
203 Butler Library
Register for the Fall Premiere 2009

Come see how teaching technologies can enhance your curriculum and actively engage your students in learning. Register Today!