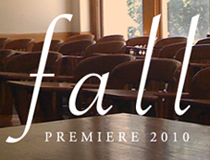 September 7, 2010. How is educational technology meeting the evolving needs of faculty and students at Columbia?
Find out at the Fall Premiere 2010.
This year's Fall Premiere will give you a look inside the world of immersive teaching and learning platforms, like Columbia Wikispaces and EdBlogs. Discover how your colleagues are using wikis and blogs in the classroom to promote student engagement, participation, and reflection, and learn how you can get started with web-based teaching activities.
You'll also hear about educational media services at Columbia and the latest strategies for integrating user-generated media in the classroom. Read the full agenda and register with your UNI at http://ccnmtl.columbia.edu/fp2010.
Tuesday, September 7, 2010 11:00AM - 12:00PM
203 Butler Library

The Fall Premiere 2010 is designed specifically for Columbia's faculty and instructors, librarians, and teaching assistants. Get ready to captivate your students and meet your teaching goals.