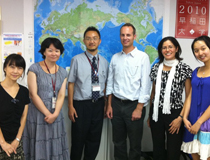 August 23, 2010. CCNMTL staff members Michael Preston and Ashlinn Quinn visited Waseda University in Tokyo, Japan for the Global Honors College on August 1-4, 2010. The visit coincided with the start of the three-week onsite phase of the College's 2010 Global Seminar in Sustainability. This onsite phase is a two-credit course for undergraduates from nine universities in the U.S. and Asia (including Columbia, Harvard, MIT, Yale, Peking, Korea, Waseda, University of Washington, and the National University of Singapore) which followed immediately upon the online component of the seminar held in June and July. In both the online and onsite phases, faculty and students conduct research on topics pertaining to sustainable development, using digital collaboration and research tools to document and share their findings.
During their visit, Preston and Quinn led several workshops with students and faculty, introducing them to new tools that would be implemented throughout the seminar's onsite phase, including one of Columbia's online collaboration platforms, Wikischolars. They also provided troubleshooting support to seminar participants who were using technologies such as VoiceThread and Mendeley, and they attended administrative meetings to discuss planning strategies for future Global Seminars. Prior to their departure, Preston and Quinn designed and distributed a survey to the seminar students to evaluate the online phase of the program.
Learn more about the Global Honors College.
Related news:
Aug-30-2011: Global Honors College 2011 Concludes
Jun-22-2011: Global Honors College 2011 Kicks Off
Aug-11-2010: Mendeley Blog Spotlights Global Honors College
Jun-07-2010: 2010 Global Honors College Launches with CCNMTL Support