Open source software for educational institutions—what it is, how it works, and why it's important—was the subject of a talk for members of Columbia University's educational technology community on March 12, by Ian Dolphin, Executive Director of the Apereo Foundation.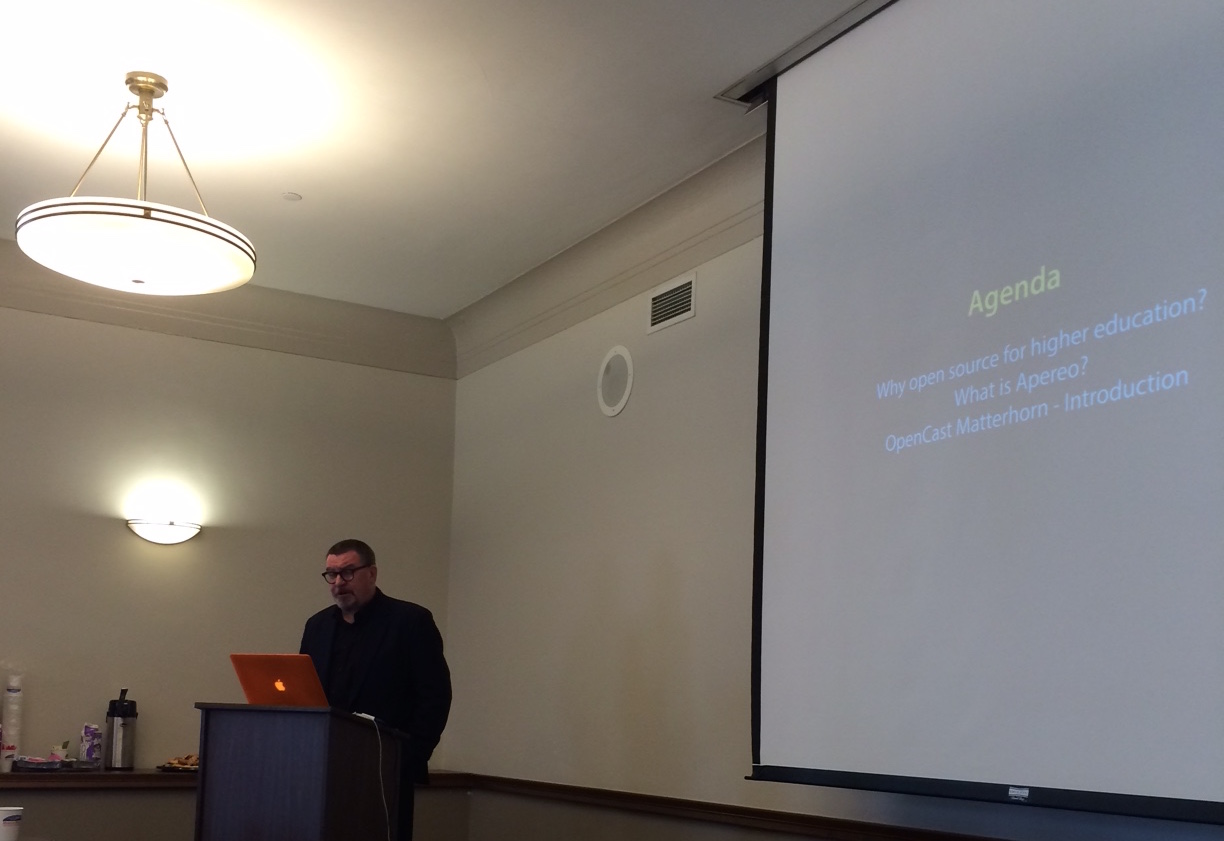 Ian Dolphin speaks at CCNMTL
Open source software is software whose code can be freely used, modified, and shared according to licenses maintained by the global nonprofit Open Source Initiative, which also maintains the Open Source Definition for software.
In the talk, jointly hosted by CCNMTL and the Columbia Library-sponsored Developer's Lounge, Dolphin described the network of institutions and projects under the Apereo umbrella. Apereo was created by the 2012 merger of two existing educational software communities, Jasig and Sakai. The foundation is unique in its promotion and support of software development according to the academic values of openness and collaboration.
Since that merger, the Apereo community has grown to include more than a dozen projects through its incubation process. According to Dolphin, new software projects and communities that choose to incubate with Apereo are given a framework for development and support through mentoring from and connections with the foundation's larger membership.
Apereo projects include infrastructure software such as the CAS single sign-on solution, UPortal, and Bedework calendaring solution; collaboration and learning management environments such as Sakai and Apereo Open Academic Environment; and educational technology tools such as the Karuta e-portfolio, Opencast Matterhorn lecture capture and media services platform, and Xerte online content authoring.
Apereo is also home to educational technology communities of interest, including regional and language communities for Sakai, the Learning Analytics Initiative, and the Sakai Teaching and Learning Group .
Lucy Appert, CCNMTL Associate Director for Instructional Design, serves as Vice Chair of the Apereo Board of Directors.