The Jewish Theological Seminary of America this week launched a beta version of learn.jtsa.edu, a vibrant source for Jewish learning, knowledge and inspiration on the Internet. Developed in partnership with the Columbia Center for New Media Teaching and Learning, learn.jtsa.edu allows public access to a vast array of resources from one of the world's leading centers of Jewish learning, including over a decade of weekly Torah commentaries written by prominent academics and rabbis; video and audio recordings JTS public events and lectures; and engaging conversations around issues relevant to Judaism in the 21st century.
Learn.jtsa.edu is a first step in providing online learning extension courses that will draw from the repository's content, about 20% of which has been added so far. Over the next couple of months, JTS staff will adapt additional content for the new repository, bringing varied resources into one collection. Eventually, a portal, accessible from the learn.jtsa.edu site, will provide access to the online learning management systems.
"As we begin to see the learn.jtsa.edu site take shape, we are excited by the potential to reach an expanded audience in new ways that allows them to benefit from the vast digital resources available through JTS," comments Rabbi Marc Wolf, Vice Chancellor, Community Engagement at JTS, who along with Rabbi Charlie Schwartz, Director of Digital Engagement and Learning, is managing the project and coordinating the thousands of content items that will be accessible through learn.jtsa.edu.
The learn.jtsa.edu site includes social media integration, allowing visitors to comment on and share content using popular platforms like Facebook and Twitter. For example, Torah commentary on the symbolism of the window in Noah's Ark, Daydreaming Out The Window, has already been discussed in Facebook and Twitter streams.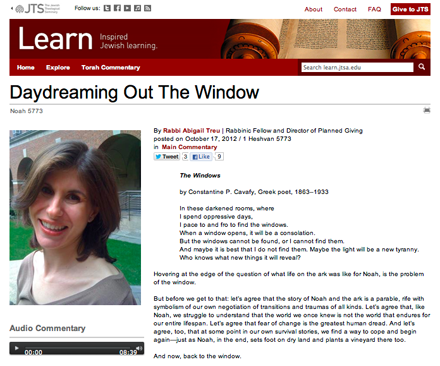 The CCNMTL effort has been led by Kenny Hirschmann, senior educational technologist, who works with JTS as part of a three-year partnership of the two organizations. "To date, the engagement with JTS has been a tremendous opportunity for Kenny and CCNMTL, and we hope to continue to extend and solidify that partnership with JTS through efforts like learn.jtsa.edu," commented Maurice Matiz, vice executive director at CCNMTL.
The Drupal-based site has been developed by Jed Davis, programmer, architected by Rachelle White, web designer, with technical oversight by Jonah Bossewitch, lead tech architect. The design prototypes were created by Boston-based design group Quilted.