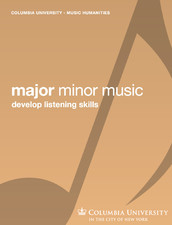 Major Minor Music, a mini course that was created to help students in Columbia's Music Humanities courses learn to hear the difference between major and minor keys in musical compositions, is now available for free in Apple's iBookstore so that it can more easily be located, downloaded, and used.
The Major Minor Music iBook is based on the existing website for Major Minor Music, which was first created by the Columbia Center for New Media Teaching and Learning (CCNMTL) and the Music Humanities Department in 2001 and revised in 2012.
The iBook version, also created in 2012, includes seven lessons, audio samples, animations, and ten trainers. The trainers are interactive self-test elements that allow students to gauge their progress as the listening examples move from simple musical notes to complex musical examples. The iBook format also allows students to add their own notes and to create study cards.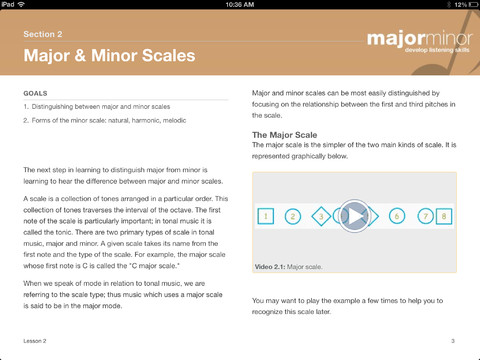 The Major Minor Music site was originally developed by Professor Ian Bent, John Ito, and CCNMTL. The iBook port was created at CCNMTL by Maurice Matiz with assistance from Marc Raymond and two student interns, Gabriel Jacobs and Benjamin Veilleux. Jay Hickey from Columbia Technology Ventures processed the publication to the iBookstore. The iBook version can be used on iPads with the iBooks 3 app.
Related news:
Sep-06-2012: Music Humanities Gets New Major Minor Music Mini Course