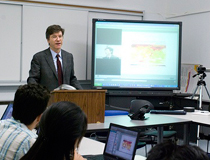 September 25, 2009. The Global Master's in Development Practice (MDP) graduate program launched at Columbia's School of International and Public Affairs (SIPA) this semester, following more than a year of planning and preparation between the Earth Institute, CCNMTL, and partner universities throughout the world.
This new program, conceived by the International Commission on Education for Sustainable Development Practice and sponsored by the John D. and Catherine T. MacArthur Foundation, is the first of its kind at the University. The program, which aims to teach students the skills and knowledge necessary to address complex global challenges of sustainable development, is designed to incorporate multi-disciplinary classes and cross-border collaboration of sustainable development students throughout the world. A key component of the program is the Global Classroom: Integrated Approaches to Sustainable Development, a master's-level sustainable development course simultaneously taught at a dozen universities around the world. The Global Classroom enables hundreds of students to conduct synchronous discussion, collaboration, and learning.
CCNMTL has played a seminal role in the pedagogical and technological development of the Global Classroom and the MDP program, which are both projects in the Center's Global Learning Initiative. To foster a collaborative and engaging community for MDP students, the Center has created an online social network in which students can discuss and share their work. A core requirement for this enterprise was an open-ended learning management system (LMS) capable of supporting local and external students that offered a variety of collaborative and synchronous tools. CCNMTL partnered with Remote-Leaner.net to deliver a Moodle -based course site for students to access reading materials and videos of lectures, to participate in discussion forums about course topics, and to collaborate on assignments.
Currently, just four weeks into the MDP program, students around the globe have participated in live discussions with economist Jeffrey Sachs, food security expert Lawrence Haddad, nutrition specialist Jessica Fanzo, and agronomist Glenn Denning; and have begun to work towards devising sustainable solutions to localized development problems around the world. The participants, hailing from 17 universities across the globe, have also begun to use the customized social network to get to know each other outside of the classroom – for example by sharing relevant web sites, forming interest groups, and holding online discussions with other members of the MDP community.
Next year, 9 more universities worldwide will launch partner MDP programs, creating a global consortium of sustainable development students, practitioners, and subject experts. CCNMTL is continuing to build digital networking and learning tools to accompany cross-institutional student collaboration and is also facilitating the development of an online repository containing sustainable development resources and learning materials for student use.
Related news:
Mar-10-2011: CCNMTL Attends the Global MDP Summit 2011
Jul-14-2009: CCNMTL Partner John McArthur Discusses Master's in Development Practice in The Huffington Post
Oct-23-2008: CCNMTL Partners with Earth Institute on New Master's Degree