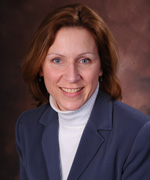 Melissa Begg, Vice Dean for Education at Columbia's Mailman School of Public Health and Professor of Biostatistics, was recently awarded the 2013 Association of Schools and Programs of Public Health Award for Teaching Excellence. The award recognizes Begg's achievements in teaching and mentoring at Columbia University. Begg received the award at a ceremony on November 3 at the annual meeting of ASPPH.
Begg has worked closely with the Columbia Center for New Media Teaching and Learning (CCNMTL) on several recent projects. In Fall 2012, Begg collaborated with CCNMTL on new online program called EPIC Digital. EPIC offers one-week intensive online courses in population health for researchers and scholars from the health and social sciences, public health practitioners, clinicians, and industry professionals.
CCNMTL is also working with Begg to create online Masters programs in Biostatistics and Epidemiology for Mailman. These programs will incorporate both online and face-to-face educational experiences.
Image courtesy of Mailman School of Public Health