Tooth decay is painful and can be particularly traumatic for young children. Once decay sets in, sometimes a visit to the operating room is the only recourse for repairing a child's teeth. Many parents don't know that early childhood caries (ECC or severe tooth decay) is a preventable disease and don't know the steps necessary to improve their children's oral health. Dr. Burton Edelstein of the College of Dental Medicine and CCNMTL are taking a first step to help families with children at-risk for ECC. Parents visiting Northern Manhattan Perinatal Partnership (NMPP) today will encounter the MySmileBuddy project for the first time, as part of a pilot test.
MySmileBuddy is an iPad-based application (see screenshot below). It helps community health workers assess a child's risk for ECC and counsel that child's family on preventative lifestyle changes, providing educational and motivational activities about oral health. Community health workers at NMPP will supplement their face-to-face interactions with MySmileBuddy's assessment questions, interactive day/diet planner, and videos and animations to help the families determine whether their children are at-risk and how to reduce that risk.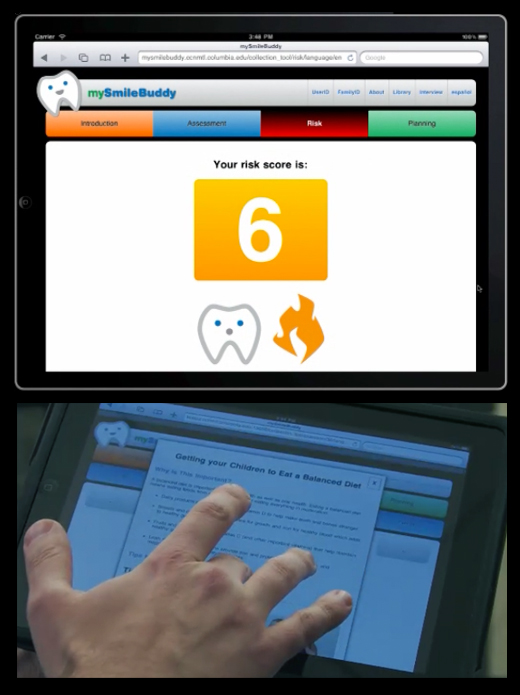 The goal of the pilot is to gather feedback from health workers and families about the design and content of MySmileBuddy as well as to collect data to refine the risk assessment rules behind the tool.
The development of this pilot is funded by the National Center on Minority Health and Health Disparities. Dr. Edelstein and CCNMTL hope to continue to develop MySmileBuddy into a robust assessment and educational tool that can be disseminated widely and are seeking funding via the public and private sectors.
(Updated July 11, 2011 to include related video.)