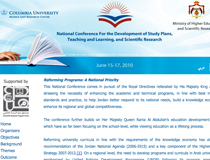 June 16, 2010. Ryan Kelsey, CCNMTL Associate Director of Education and Research, is in Jordan this week where he will present at the National Conference for the Development of Study Plans, Teaching and Learning, and Scientific Research, hosted by Jordan's Ministry of Higher Education and Scientific Research and the Columbia University Middle East Research Center.
The National Conference, which runs from June 15-18, aims to enhance the development of higher education in Jordan by engaging faculty and decision makers at universities in a national dialogue on the key issues in teaching and learning, program development, student assessment and evaluation, and the development and use of e-learning platforms. A core theme examined throughout the conference is the use of technology-enhanced education and its role in higher education programs.
Ryan's presentation, based on the CCNMTL-authored paper, "Building to Learn: A Decade of Innovation at the Columbia University Center for New Media Teaching and Learning," addresses key areas of the Center's work, including the transition from Web 1.0 course management systems to web 2.0 loosely coupled tools; simulations; annotations and close readings; and the Triangle and Global Learning Initiatives. To learn more about Ryan's presentation and additional papers presented at the conference, visit the National Conference website.