Doctors and nurses in New York and New Jersey will have a new way to learn about the latest hepatitis C treatments thanks to learn.nynjaetc.org, a new collaboration between the New York/New Jersey AIDS Education and Training Center (NYNJ AETC) and the Columbia Center for New Media Teaching and Learning (CCNMTL).
Learn.nynjaetc is an interactive, online extension of NYNJ AETC's in-person trainings and online publications. NYNJ AETC is a program funded by the U.S. Department of Health and Human Services Health Resources and Services Administration devoted to improving services and care for HIV positive people through education and training for health professionals. Learn.nynjaetc provides another channel of access to training and and information for health workers seeking to improve their skills and obtain continuing medical education credits.
Hepatitis C (HCV) is a world-wide public health problem, the cause of cirrhosis and liver cancer, and the leading cause of liver transplantation. Until recently, treatments for HCV resulted in sustained suppression of the virus for only 50% of patients with the type of HCV most common in North America and Europe. In 2011, two new drugs, both direct-acting antivirals, were approved. These drugs are significantly more effective, but they are also complicated to prescribe, and patients must be carefully monitored for side effects. As the landscape of HCV treatments changes and progresses, health care providers must carefully consider which patients to treat immediately, which to wait to treat, and how to treat HCV in patients also infected with HIV.
Helping doctors stay up-to-date on the newest and best treatments for health conditions relevant to people living with HIV is part of NYNJ AETC's core mission. So last year, Dr. Daria Boccher-Lattimore, Director of NYNJ AETC and a professor at Columbia University's Mailman School of Public Health, approached CCNMTL about collaborating on a self-paced online course that would teach doctors and other health professionals how to manage new hepatitis C treatments for patients with and without HIV. Dr. Boccher-Lattimore brought in Dr. Kristen Marks of Weill Cornell Physicians Organization, an expert in hepatitis C/HIV coinfection, to develop the course content.
Together, Dr. Boccher-Lattimore, Dr. Marks, and CCNMTL's team of designers and programmers developed innovative materials to teach response-guided treatment principles for HCV. The new course, "Hepatitis C Medications and Special Considerations for People Living with HIV," guides doctors through two patient cases and provides a detailed interactive activity that reveals differing treatment paths and end points depending on test results. Doctors can receive continuing medical education credits for the course through Weill Cornell, but the course itself is free and open to anyone who wants to learn more about HCV treatment.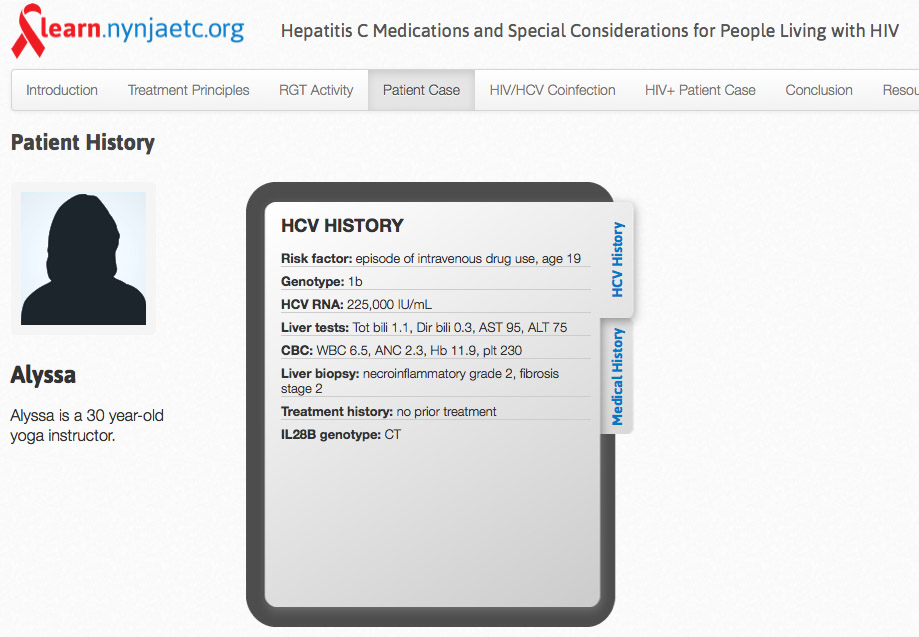 Inspired by their success collaborating on the Hepatitis C course, the project team decided to create learn.nynjaetc.org. The website provides access to the hepatitis C course and will also hold future online courses related to new treatments and best practices for the care of people living with HIV.
Related news:
Sep-22-2014: Online Course Now Includes Newly Approved Hepatitis Treatments